For more than 20 years, Pantone, the global authority on color, has surveyed the designers of New York Fashion Week and beyond to bring you the season's most important color trends. When Pantone released its Fashion Color Report for Spring 2014, Radiant Orchid, a pretty purple color was the talk of the town. This was the inspiration for Leilani's Pearl Island Twist-kini.  Although Radiant Orchid is majestic, there were a few other colors that IMO, need to be brought to the forefront. Rooted in nature and the elements, this season's hottest hues are inspired by blooming flowers, the setting sun, and the lush color-scapes you see when traveling. While we can't reinvent the color wheel, the colors listed below are must-haves for your wardrobe, your beauty bag, and even your nails!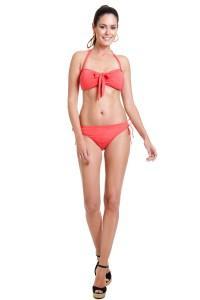 Cole of California Bow Bandeau
Coral
Coral is one of the most flattering colors that people can wear during the summer. The rich warm tone stands out beautifully on its own (coral lips anyone?), but it pairs wonderfully with other shocking hues like a dazzling blue or canary yellow. It can easily be toned down with khaki or black as well.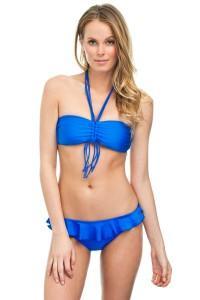 Shimmer Bandeau by Seafolly
Try out the Cole of California Bow Bandeau and pair it with the Top Off Shoulder Elan Cover-up 
Dazzling Blue
More playful than baby blue, but still as appealing as turquoise, dazzling blue is a vibrant companion to pastels, while elevating neutrals like creamy beige and white. It's a very bold and sporty tone, so make sure your confidence is at 110% when you wear it. To ease into the trend, try it on your nails first. Try :   Seafolly Shimmer Bandeau  or if you want a touch of color to pair it with the Becca Etc. True Blue See It Through Tankini
Canary Yellow
This tropical hue packs a beautiful punch in both large and small doses. Coupled with navy or white with a splash of red will give it a bit of nautical appeal, but if worn in a print with warmer tones like green, pink, or orange, it has a more exotic feel. Ground it with white to keep it the focal point of your look. Try the Shimmer Mini Tube with Rill by Seafolly  + Raisins Bali Fringe Sunshine Bandeau-kini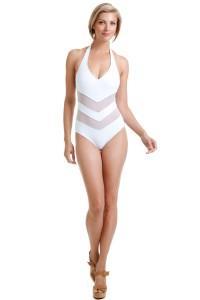 Anne Cole Mesh Halter
White
Crisp, clean, and serene, white will ALWAYS be a hot hue for Summer. No other shade makes tanned skin look so healthy, and the tone is quite posh on nails as well. Bling it out with tons of gold or silver accessories, or let it serve as a backdrop for a colorful statement necklace. Try the Anne Cole Mesh Halter  and pair it with the classic Anne Cole Boyfriend Shirt .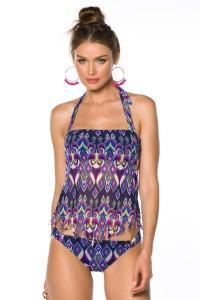 Synergy Bandeau by Becca
Mixed Prints
If you're excited to wear all of the colors, throw caution to the wind and whip out your mixed prints. They were made for warmer weather, so pick your favorite color palette, and choose soft silhouettes in moveable, breathable fabrics like gauzy knits and silks. Try the Ditsy Floral 3 in 1 Convertible Bandeau by Anne Cole + or the Becca Synergy Tankini.