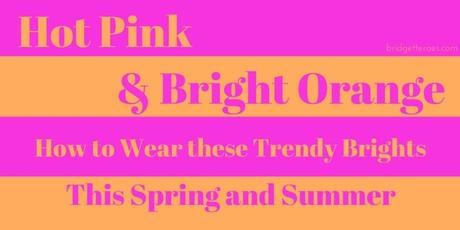 After a long, cold, dark winter, we will be jarred out of hibernation with plenty of bright colors this spring; two of which will be hot pink and bright orange. Personally, I'm excited about them, particularly the bright orange, which I have been gravitating to constantly. In small doses both colors can be easily incorporated into your existing wardrobe. Really loving brights? You can go full out.
Hot Pink and Bright Orange: How to Wear These Trendy Spring Colors
In today's post, I am going to show you how you can add both of these colors into your wardrobe separately. If you love them combined, you'll definitely be seeing these colors used together in the stores. Be sure to check out the end of this post for some shopping suggestions.
Outfits #1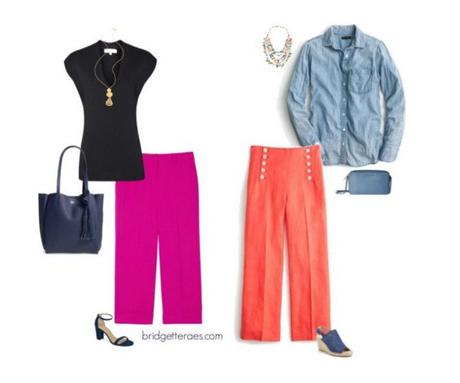 Designers will be giving you plenty of opportunity to really embrace hot pink and bright orange this spring. I found both shades in pants. I actually pulled the pink pair above from Vince Camuto for a client of mine and, believe it or not, they looked great. She did wind up buying the pants in white, instead, but the hot pink were contenders. On the right, I am showing these wide leg cropped sailor pants in bright orange from J. Crew.
In both cases, I toned down the brightness of the hot pink and bright orange with neutrals. I think this is the most realistic way to go when choosing these colors for your clothing. Certainly, I have been to warmer climates where bright colors everywhere feels right, but outside of that, toning the colors down with neutrals is likely more realistic.
On the left, I styled the hot pink pants with a navy top from Reiss, a pair of navy block heel sandals from Stuart Weitzman, a navy tote from Vince Camuto and pendant from Gorjana. On the right, the bright orange pants have been styled with a chambray shirt, indigo wedges from Caslon, MICHAEL Michael Kors crossbody, and colorful beaded necklace from Lauren Ralph Lauren.
Outfit #2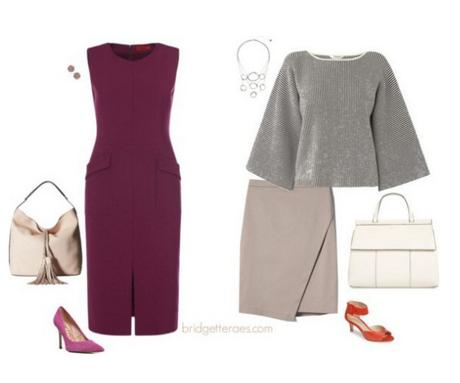 I think shoes are the perfect place to pick up this trend and add it to your wardrobe. It's a small bit of bright color while adding some trend to outfits you already own. On the left, I styled these hot pink pumps from Sam Edelman with this burgundy dress from BOSS Hugo Boss. I like the way the colors work tonally and the hot pink pumps brighten the darker shade of the dress. Finishing the look, I used this Rebecca Minkoff Hobo and colorful studs from Kate Spade.
Outfits #3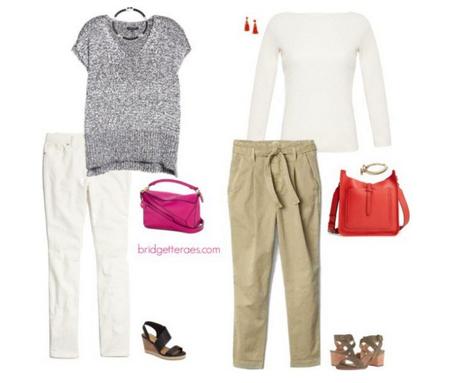 Another place to add this bright trend in small doses is through your handbags. If you have a neutral driven wardrobe, you might be surprised how versatile colorful bags can be. Bright bags can be the perfect way to add some non-permanent pop because they're not always on your body.
On the right, I used this bright orange Rebecca Minkoff bag to add some color to these chinos from The Gap, ribbed boat neck t-shirt from Theory, olive block heel sandals from Splendid, and gold cuff from Banana Republic. For a final splash of a little color, I used these bright orange tassel earrings from Bauble Bar.
Outfits #4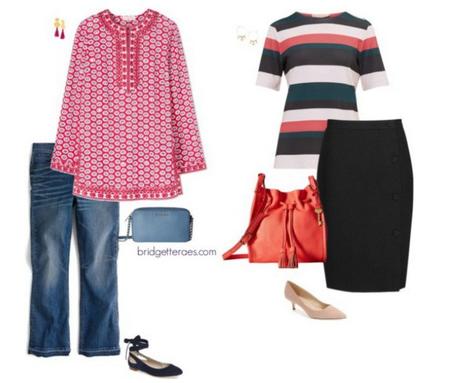 These last looks incorporate hot pink and bright orange in a different way. If you want to wear these colors but don't wan to go overboard, try them in a print or stripe. You get a small, toned down dose that might be more palatable.
When it comes to bright colors, like hot pink and bright orange, as in most trends, it's up to you how you incorporate them into your wardrobe. You can go with a little or a lot. I hope this post gives you some ideas.
Shop for hot pink and bright orange