This week I've been hearing about the "Allergic to Algebra" female t-shirt debacle by fashion brand Forever 21. The t-shirt was quickly shared on the Internet, as well as the post-it message someone had put on it saying: "Smart girls are cool, don't buy that top." A vigorous debate then took place and the t-shirt was pulled out from the market.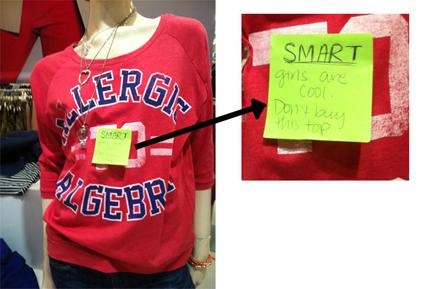 It's so sad that girls still apparently can't be smart AND hot at the same time. The media floods our screen with stereotyped "geek girls", the ones who spend their days at the library and don't know how to dress or make up, and the "cheerleading girls", who are dumb but damn they're hot…
It's become very difficult for teenage girls to actually get a good self-esteem when they're obliged by social pressure to choose between two images. All girls want boys to think they're hot, but do they need to sacrifice their intellect for that?
On Jezebel, Margaret Hartmann cleverly explains: "You know, because ladies can't be smart and pretty, and the best way to show boys that you're focused on being hot is to giggle and refuse to apply yourself in class." She also pointed out this other very good example, the "I'm too pretty to do homework so my brother has to do it for me" t-shirt.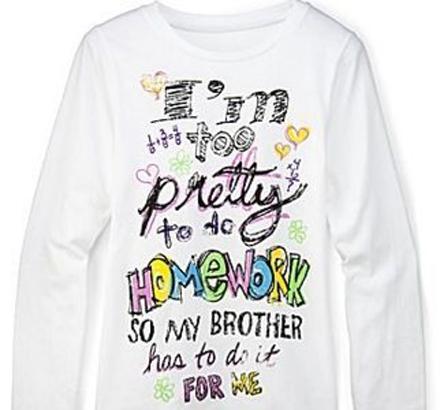 That's how later we get adult women who could have gone to college, who could have believed in themselves enough to pursue the carreer they wanted, but who are stuck in the "secretary role", who work to serve both clever and hot executive men. Ironic?
You might think "it's just a t-shirt", but it actually shows very well the whole situation, and I think it would be much better to focus on positive messages that motivate our teenage girls to achieve more than they're told by society.