Earlier this winter, Nice Horse was in Toronto and we had the chance to sit down with the band at Steve's Music Store on Queen St. W to talk about their new single, the upcoming video, what else they've got coming in 2020, and more.
The 2018 Association of Country Music in Alberta, Group of the Year winners were in town to talk about the release of their first song of 2020, Hot Mess, to film the official music video for the song, and to record more new music. We're glad that we were able to catch up with them in the short time they were here. Katie, Brandi, Krista, and Tara are always great for a chat, and this time around we learned about new projects, what it feels like running their lives, and we got to play a new round of 5 Quick Questions with the Calgary quartet.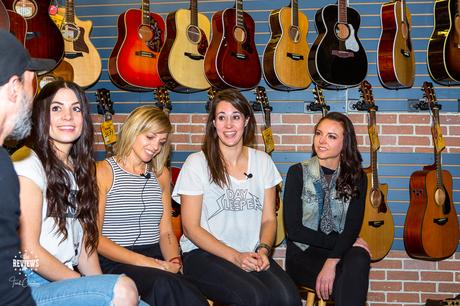 It's been two-and-a-half years since Nice Horse released their debut album, There Goes The Neighbourhood, and as fans, we're ready for a new record. As a band, it sounds like they're getting ready too.
As we talked about the band's plans for 2020 the topic of recording more new music came up. There's more of that planned as the year progresses. But, there are also songs that have already been recorded to go along with Hot Mess. And as I started to do the math while we chatted, it became more and more clear that the next Nice Horse album is starting to take shape and when it's ready, we'll be ready for it.
There's a whole lot more than that going on though.
The Nice Horse tour schedule isn't publicly packed yet, but there are shows coming. They'll get on a plane for an 11-and-a-half hour flight and head to Zürich to play at Gasthaus Albisgütli in mid-March as a very cool chance to play far from home and represent Canadian country music on an international stage. And after that gig, Nice Horse will look at the summer season and more shows and stages and cities. They didn't tell us where exactly they'll be, but they have been booked for Lucknow's Music in the Fields at the end of August, so Ontario fans can mark that on their calendars.
And if you thought that was more than enough to keep a band busy. All the planning and recordings and playing live, you'd still be missing out on a big part of what Nice Horse is doing.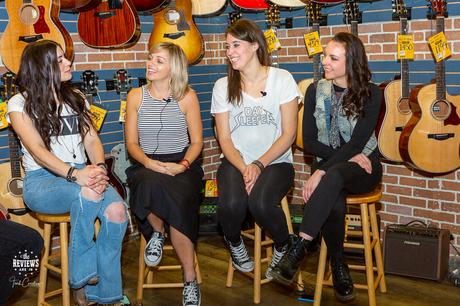 Recently, the band began the beta test phase of their new app, BANDIE. The tool was created to help bands organize, track, plan, and control their touring lives and more. It started as a way for Nice Horse to better control their own professional life. They have no tour manager (neither do 95% of other bands, Brandi told us) and all four band members are active in putting things together as Nice Horse. They had built complex Google sheets to help them, and finally took them to some developers (former musicians themselves) and asked if they thought the sheets could be turned into an app. The answer was yes, and the next step began.
That was last year, and now the band has been using the beta version of the app themselves and extended the offer to other bands in various genres, areas, and with differing needs to work the bugs out and fine-tune the functionality so it's ready for wide use. We think it's a fantastic venture for a bunch of reasons. The effort and ingenuity to create a solution to a problem is the indie DIY spirit that we applaud from musicians. The good that BANDIE can do for other acts is commendable and could very well make a big difference and that's worthy of praise too. And the time and dedication it took to put all of this together while still doing all of their traditional band work is exceptional and shouldn't be overlooked.
We asked about all of that, the time and effort and work, and the band told us that it definitely helps that all four members of Nice Horse are Type A, highly organized women. But they also told us that doesn't mean they don't sometimes feel like they don't have all their ducks in a row. Krista told us that it kind of feels like falling off a cliff, every day. She laughed, and Katie, Brandi, and Tara laughed too, but the more she explained it, the more it made sense. There are a lot of balls in the air at all times for Nice Horse. They write songs, record them, rehearse and play live shows, book those shows, travel across Canada and further, and then have their media runs like they one they fit into their Toronto schedule. With all of that going on, the falling off of a cliff metaphor makes a whole lot of sense.
This slideshow requires JavaScript.
It takes a lot of work to be in a band. It takes a lot of dedication to add another project on top of that. It takes a lot of talent and effort to pull it all off. Nice Horse continues to show us that they've got all of those qualities. It's why we love songs like Pony Up, Good Life, and Six String Outlaw.
And we can tell you honestly that we feel the same way about Hot Mess. All four members of the band shine. The band gives us what we're hoping to get. And if the rest of the next album follows this kind of quality, we'll all be happy.
As we sat and chatted in the guitar-packed back room at Steve's Music Store, we got ourselves ready for a round of 5 Quick Questions. It's not the first time we've asked the band the set of questions though. Trish did a round with them in November 2018 ( click here to check it out) and in February last year I tried to do another round before Dan Davidson's EP release show at Rivoli - but in a Murphy's Law kind of way, the audio didn't turn out for us and it has become a fabled lost session.
This time, things worked out perfectly!
Hit play now to find which albums they'd listen to on a long drive, where they'd love to play live, who each of the members of Nice Horse think you should be listening to, and MORE.
5 Quick Questions with Nice Horse at Steve's Music Store in Toronto
Thank you to Katie, Brandi, Krista, and Tara for taking the time to hang out and chat with us. And thank you to Steve's Music Store in Toronto for hosting all of us. Stay tuned for more from Nice Horse, coming soon!