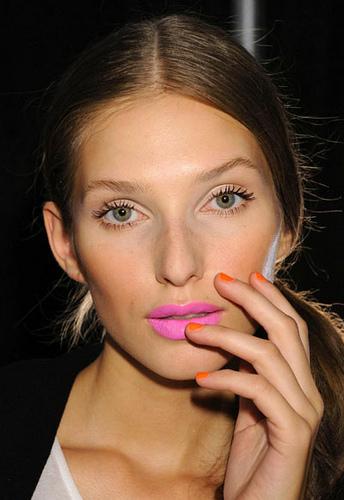 guest post by Ben P
It may be all about London Fashion Week and Autumn/Winter 2013 right now, but we haven't even got to spring yet! Let's talk what's hot right now as we finally gear up to shed our winter wardrobes and go brighter and lighter.
A look back to September 2012's fashion month displays the makeup trends for this Spring – and for eyes, it's all about colour. Be brave, be bold, be beautiful.
Here's how to get some of the best looks for Spring/Summer 2013.
EYES
All of the Fashion Weeks in September 2012 focused on eyes, with Donna Karan in New York, Christopher Kane in London, Gucci in Milan and Dior in Paris using coloured liner, jewel coloured eyelids and really long, glamorous eyelashes.
Big, fake lashes
Don't be afraid to be openly faux. Lashes were on show at Versace, Gucci, Moschino and Armani.
Go pink
Pink was a big deal at all the shows with magenta being liberally used on lashes and eyes at Dona Karan and bubblegum pink on cheeks, eyes and lips at Topshop Unique. Shell pink was Chanel's choice for lips.
Metallics and black, black liner
Strong looks are still going even though we're well out of the party season. Chanel chose thick brows, metallic silver and black liner on upper and lower lids. Keep the rest of your look simple, with pulled back hair and nude lips to make your eyes stand out from the crowd.
Gorgeous eyes on a budget
We have mentioned some big names here… Donna Karan, Gucci and Versace but you can get gorgeous eye makeup and create the hot Spring 2013 looks on a budget! The secret is to shop smart and check out the internet for your favourite cheap cosmetics.
Revlon eyelashes are a great option for those looking for longer lashes on a budget. They're great quality and from a name you can trust!
Wet n Wild produce some great eyeliners at fantastic prices so you may be able to pick up a few colours to experiment with.
LIPS
If you're going big with lips then the message is pared down chic for the rest of your face, with nearly bare eyes and flawless skin.
Red lips
The only way is matte if you're after bright, bold lips. Burberry's scarlet, Missoni's coral and Giles fuchsia showed the way forward.
Give us a kiss
When it comes to lipstick on a budget then Burberry and Giles might not be your first choice but again Wet n Wild have a collection that is well worth your attention. They have plenty of bold and bright lippies that are bang on trend – you'll look fabulous without breaking the bank!