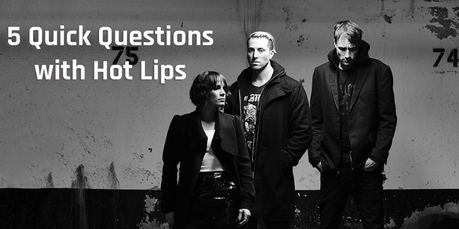 Hot Lips, Toronto-based electro-grunge trio made up of Karli Forgèt on vocals and synth, Alex Black on bass and vocals, and Keith Heppler on drums.
They've got a loyal local following. In addition to having released their debut EP American Hardcore, they've had played some pretty high profile opening sets with artists like Rob Zombie, Michale Graves of the Misfits, 3Teeth, Econoline Crush, Rusty, Crown Lands, and Swollen Members.
Along the way, they've garnered radio play in Canada, the United States, Germany, and the United Kingdom.
Synthesizers, a bass guitar and drums (no guitar) is what make them sound different.
On Friday, October 18th, they'll be playing a fundraiser for Rethink Breast Cancer at Toronto's The Rec Room. They'll be there with a handful of friends who are also musicians and supporters of this great charity. Joining Hot Lips on the bill are Joan Smith, Courage My Love, and Featurette.
Rethink Breast Cancer strives to empower young people who have been affected by breast cancer through education, support, and advocacy.
I thought this was a great opportunity to get to know the band and find out more about their upcoming gig, so we asked them to do a round of 5 Quick Questions.
5 Quick Questions with Hot Lips
ALL LINKS ON THE YOUTUBE VIDEO! (Click "YouTube" at the bottom of the video)
What breast cancer awareness means to HOT LIPS and why we're teaming up with Rethink Breast Cancer for this special show.
"¼ of all new cancer cases in women are breast cancer and on average 14 Canadian women die from breast cancer every day. We wanted to support Rethink Breast Cancer because they advocate for and provide education to younger women. Many young women are busy building their careers and lives and breast health isn't seen as a priority due to the incorrect assumption that breast cancer only occurs with advanced age. Women who have been diagnosed with breast cancer are forced to overcome challenges with finances, employment, fertility, dating, and many others. We felt that this was a unique opportunity to bring awareness to our own audience who fall within the target demographic of Rethink Breast Cancer.

On a personal level, we also have family members who have fought and/or are still currently fighting breast cancer. The more we've opened up about the struggles our loved one's face, the more we realize that there are many others battling breast cancer. We feel that bringing forth a sense of solidarity and community to those who have been diagnosed improves outcomes and quality of life for breast cancer survivors."
Thanks to Karli and Hot Lips for taking the time to answer our questions. If you're free on the 18th grab a ticket and check out the show.
Two dollars of every ticket sold goes directly to "Rethink Breast Cancer".
Doors at 9pm.
$10 adv/$15 door. 19+