FRIDAY FINDS showcases the books you found and added to your To Be Read (TBR) list… whether you found them online, or in a bookstore, or in the library — wherever! (they aren't necessarily books you purchased).
Some big-name authors books are coming out with new books this June.
There's George R.R.Martin with his new book Rogues, which is a compilation of short stories by well-known authors such as Neil Gaiman and Gillian Flynn. At first I wasn't too interested. Shouldn't he be spending time on The Winds of Winter instead?
But then I see the star-studded line-up of writers and I am just drooling at the thought of getting my paws on this one.
Contributing writers are: Joe Abercrombie • Daniel Abraham • David W. Ball • Paul Cornell • Bradley Denton • Phyllis Eisenstein • Gillian Flynn • Neil Gaiman • Matthew Hughes • Joe R. Lansdale • Scott Lynch • Garth Nix • Cherie Priest • Patrick Rothfuss • Steven Saylor • Michael Swanwick • Lisa Tuttle • Carrie Vaughn • Walter Jon Williams • Connie Willis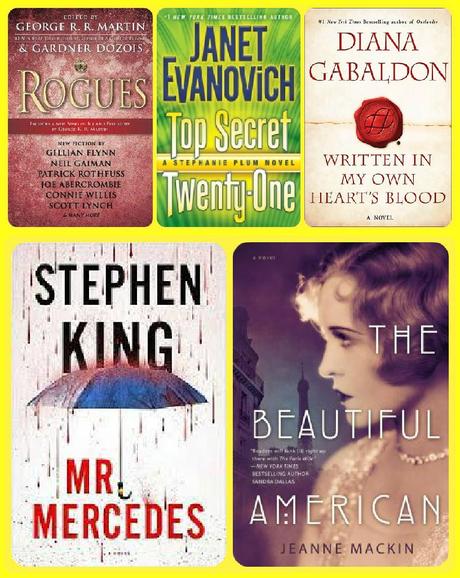 Janet Evanovich has come out with a new Stephanie Plum novel for those readers still vested in the series. I am not, I gave up on it eons ago. Diana Gabaldon is also out with her long-awaited finale to the Outlander series. Rather cloyingly called Written in my Own Heart's Blood, this one is going to be a bestseller for sure. Me, I stopped the series at Outlander itself, so I have another six books to go before I get to this one.
Stephen King is also out with a new book – Mr. Mercedes. In this book, an ex-cop is pitted against a sociopathic killer who likes to run over crowds of people in his Mercedes car. What? I know, the plot sounds a bit weird, but we are in the hands of a master here, and I expect the book to be super-entertaining.
The last book I feature is a bit of an unknown – The Beautiful American by Jeanne MacKin. I am featuring it based on the pretty cover, but the blurb on goodreads also sounds very good. It's historical fiction set during World War 2 and it's about the friendship between two women – one of whom is an actual historical character. It's also got good reviews on goodreads, so that's another book worth picking up, I think.
So, these are the new books that are coming out in June and which I look forward to reading some day. Which books did you find out about this week?