Sometimes, out of the blue with no expectations at all, you hit a homerun with a recipe creation. And, that's what this hot italian sausage kale bean paesan soup is. A home run! And, I had no idea when I started fashioning this soup. This assessment is not just from my tastebuds but from my food seeker taste testers including my husband and my dear foodie friend, Kita, of Girl Carnivore! So, we're sitting here at my home in the Rockies, dead winter, on this Saturday. She arrived from a gig in tundra of Canada, it's snowing to beat the band, she's ready for this weather. But, our first order of business? To taste the soup. And, here we are ooogling over it!
Yes, this soup, so simple easy and full of earthy real healthy flavors, can be made and ready to eat in about an hour. But, if you give it a little more time, like overnight, you'll experience the depths of flavor and seasoning that only time can give to a comfort food like soup.
There are a myriad of textures in this soup. Since it's made with ground hot italian sausage, when it's browned, it doesn't crumble as finely as beef or lamb. That's a good thing because the sausage that you taste is like having miniature irregularly shaped meatballs. Then there's the slight hint of 'crunch' from the garbanzon beans. You've got those meaty baby bell mushrooms. And, rounding it all out is the rainbow kale with surprises of al dente crunch small stems that sometimes come when you buy kale already chopped and cleaned. It's a real time saver especially when you want to get dinner on the table in a hurry!
Ben, my husband and renaissance man taste tester, literally puts this hot italian sausage kale bean paesan soup in the category of one of THE best recipes I've ever come up with. I sure hope he wasn't just voraciously hungry!! xoxo ~ally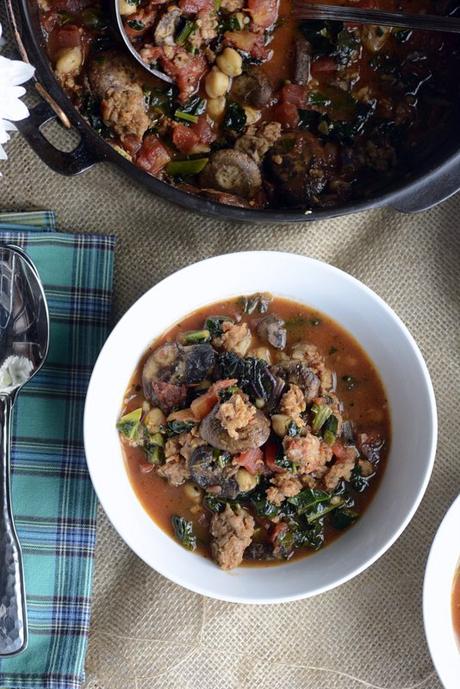 Ingredients
¼ cup bacon drippings
1 lb. hot Italian ground sausage
3 garlic cloves, sliced thinly
1 envelope savory herb with garlic soup & dip mix, I used Lipton
2 (14.5 oz.) cans diced tomatoes, fire roasted & green chile
2 cups chicken stock
3 cups rainbow kale, chopped
8 oz. baby bella mushrooms, sliced
1 (14.5 oz.) can garbanzo beans, drained
½ tsp. sea salt
1 tsp. coarse ground pepper
Instructions