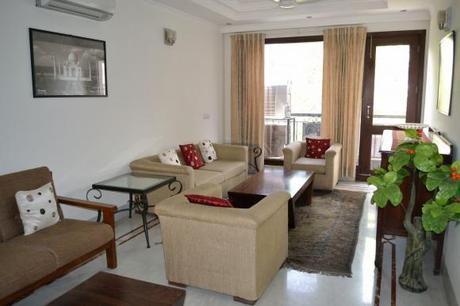 Tree of Life lounge
What's hot?
I didn't find this gem of a B&B from a guidebook, travel magazine or website. I was searching for recommended car hire companies before I had sorted out where I was staying (yes, I sometimes do things in a peculiar order). And my faithful Lonely Planet India guidebook  suggested I look no further than The Metropole Tourist Service.
Ashwani Bazaz, the owner of the car company then suggested the Tree of Life, run by his yoga teacher wife, Suruchi. It sounded almost too good to be true, but the Trip Advisor reviews and awards were reassuring.
This intimate place is a genuine home from home, with its personalised service that made me feel I was in the company of close friends.
To/from the airport
The hotel includes an airport transfer by standard car from Delhi airport to the Tree of Life and the journey takes about thirty minutes.
Location, location, location
Saket is an upmarket area of Delhi, with eateries and shops nearby the B&B as well as a metro station within five minutes walk.
The rooms
Comfortable, clean, spacious and homely.
The food
Breakfast is included, which varies from European to traditional Indian delicacies. If you are given Masala Dosa, a delicious dish from the south of the country, it's best eaten with your hands.

Special touches
The people make a place and that is certainly the case here. Krishna, a Nepalese man who works at the B&B, made sure I was well taken care of and even checked up on me when I had not left my room for an entire morning!
The fact that the owner, Ashwin, also runs a car hire company makes it convenient and safe to get around a city that may be a little daunting.
What's the damage?
View the tariffs here.
For further information and to book, visit: www.tree-of-life.in or e-mail: [email protected]
To book car hire with the Metropole Tourist Service, which covers the northern region of India, visit: www.metrovista.co.in