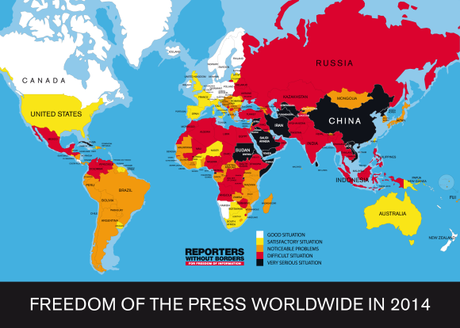 As you read this, three Al-Jazeera journalists remain behind bars in Egypt, accused of false reporting and aiding the Muslim Brotherhood. And figures have shown that at least 70 journalists were killed globally in 2013, with 28 dead in Syria. These brave reporters put their lives on the firing line to bring the news to the eyes of the world. 
The United Nations officially declared an annual World Press Freedom Day in 1993, which is observed internationally on May 3rd. This year's event will be held at the UNESCO headquarters in in Paris from 5-6th May.
UNESCO also awards the Guillermo Cano World Press Freedom Prize every year to the person, organisation or institution that has made a fearless contribution to the defence or maintenance of press freedom.
The prize is named after Guillermo Cano Isaza, a Colombian journalist, who bravely wrote about the powerful drug trafficking mafias of his country. As a result, on 17th December 1986, the mafia organised two killers who fired eight fatal shots at the journalist outside his newspaper office. Even the magistrates in charge of the investigation into his death faced threats and bribes. Some were even murdered for refusing to succumb to the bribes. This was just one such case of a crime that happens globally. And most harrowingly, it often goes unpunished.
The award is based on the recommendation of an independent jury, consisting of 12 news professionals. And yesterday, the award went to Turkish journalist Ahmet Şik, who continues his fight against corruption and human rights abuses, despite being arrested and detained and risking 15 years imprisonment.
Organisations such as CPJ (Committee to Protect Journalists), IFJ (International Federation of Journalists), IFEX (International Freedom of Expression Exchange) and Reporters without Borders continue to fight to protect press freedom.
Napolean Bonaparte was quoted to have said, "I fear the newspapers more than a hundred thousand bayonets". But it appears as though writers have more to fear than the politicians or criminals that they document.
It's unfortunate that with incidents like the phone hacking trial in the UK and the negligent work of a handful of so-called media professionals, journalism itself faces bad press. But it's worth using this occasion to remember that your knowledge about this world was probably altruistically provided by a journalist.
Press freedom is a necessity. Let us hope we stop living in a society where if you live by the word, you die by the word.