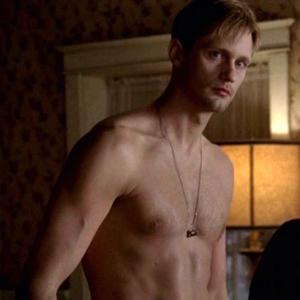 Because a Sunday isn't complete without a little bit of Skarsporn – causing some major Skarsgasms…we thought we'd share this piece of Skarsgasmic news with you!
E! Online shared their Hot Guys of Summer TV list, and guess who was the first person mentioned? (Somehow I don't think I'll be hearing too many objections to this!) If you guessed, Alexander Skarsgard (Eric Northman) as your reason to watch True Blood – then you're in good company, because E! Online agrees with us too! This is what they said below.
What's summer TV without some hot men to look at? Yeah, their shows are really clever and entertaining and they can act real good and blah blah blah…but we're not here to talk about that. We're here to talk about smoldering eyes, six-pack abs and amazing hair. Or hairy beasts. Or all of the above!

Enough chatting, more looking. Check out our Hot Guys of Summer TV gallery, and commense the swooning and face-fanning.
Alex isn't the only one from True Blood to appear on this list – Joe Manganiello (Alcide) and Ryan Kwanten (Jason) were listed too! To find out where they ranked – along with who else made this list, please click here!
Of course, we're extremely happy Alex was the first hot guy named on this drool-worthy list! Did you notice that a certain vampire is missing? Hmm…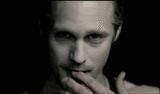 Thoughts? Feel free to drool in the comments below!