When you travel to a new city, there is always the question where will you stay? The accommodation of your stay is essential to have a good time. It is the place where you make new friends, where you find interesting activities to do, where you find people to explore the new city and of course where you should feel comfortable. When you travel, you always need an accommodation unless you have friends or family where you can stay.
There are plenty of methods, how you can find your preferable accommodation. Often "backpackers" are traveling with a lonely planet or another travel guide, but unfortunately these accommodations do not always have the best offers and prices.
For this reason, Expanish Spanish School Buenos Aires thought about 10 excellent hostels in the heart of Buenos Aires, which will make your time in Buenos Aires unforgettable:
BA Stop:
The newly renovated BA Stop is a centrally located hostel for young people. It is situated in the heart of the City centre, just one block away from the historic Avenida de Mayo, and few steps from all mayor subway lines and buses which take you to the key places in the City.
The hostel offers all different types of rooms such as dorms, three bed privat, four bed privat, double private and single private. So it is excellent for people to make new friends but also to enjoy their peace in the private room. There is a newly built flort with private rooms and private bathrooms (double or twin). Each room has a ceiling fan and heat, double glass windows to keep street noise down and more.
The hostel offers breakfast which is included in the price, free internet access, sheets and blankets, free lockers in the bedrooms, free city maps. Towels can be rented. To make new friends and sharing meals together, BA Stop has a fully equipped self service kitchen.
Direction: Rivadavia 1194
http://www.bastop.com/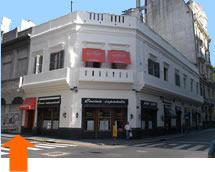 BA Stop Buenos Aires hostel
ChillHouse Guesthouse
A fancy hostel founded in 2003 by an Argentine and a French guy who had the idea to set up a hostel in the capital of Argentina. The hostel is located in the barrio "Abasto" just a few blocks from the well known Abasto Shopping, Museo Carlos Gardel or El teatro el cubo. The subte station is not more than 4 blocks away where you have easily access to the other neighborhoods such as Recoletta, Palermo, Microcenter etc.
The ChillHouse Guesthouse is composed of 10 rooms, a comfortable living room, two intern patios and a terrace where long summer days can be enjoyed with guests from all over the world. They have a barbecue at the roof terrace, which makes the summer nights particularly enjoyable.
Next to free Wifi in all rooms and breakfast which is included, they offer bike renting, good offers with city tours, discounts in clubs and other entertainment things.
Direction: Agüero 781
http://www.chillhouse.com.ar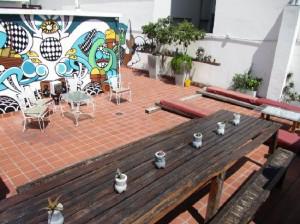 Rooftop terrace at Chillhouse Guesthouse
Garden House Hostel
The Garden House hostel is located in the authentic barrio "San Telmo". The hostel is made by and for travelers. It is described as a chilled-out and fun place. The Garden House is run by two young people who decided to open their own place in Buenos Aires after having traveled around the world. With their own traveling experience they could realize what they appreciated more or less during their personal travels.
The hostel is familiar and has a capacity for 25 peoples. They offer everything from single room to dorm and breakfast is included. Furthermore, the hostel has a barbecue grill and a fully equipped kitchen with oven, microwave, fridge etc. Internet is for free use, there are lockers and safety boxes available and there is a free luggage room.
Direction: San Juan 1271
http://www.gardenhouseba.com.ar/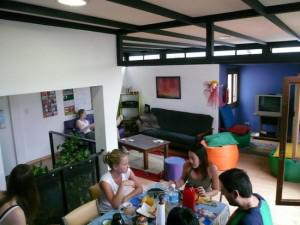 dinner nights at the Garden hostel
Giramondo Group
The Giramondo Hostel is a lively hostel for young people who prefer to live in the popular neighbourhood Palermo. The hostel is located in Palermo Soho where you have a lot of popular bars, pups, restaurants, nightclubs and independent design stores close by. The hostel has four different floors and all of them are separated from each other so that you feel free whatever you do whenever you do. They offer single/double room with private bathrooms and shared bathrooms and triple rooms with private bathrooms and dorms. The private rooms have air conditioning, stereo and cable TV. The dorms have heater and fan, free WIFI and breakfast is always included.
The hostel has a bar which offers the whole week different theme nights such as pizza night, asado night, Sunday movie, Sushi Day etc.
Direction: Guemes 4802
http://www.hostelgiramondo.com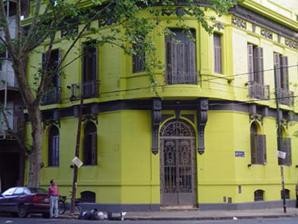 Hostel Giramondo
Che Lagarto Hostel
The Che Lagarto Hostel is an international Hostel Chain which has hostels in Argentina, Brasil, Chile, Peru and Uruguay. The hostel in Buenos Aires is located in San Telmo, three blocks from the Casa Rosada. Puerto Madero and Avenida 9 de Julio are very easy to reach and also the Subte station is around the corner. They offer female and mixed dorms with private bathrooms, hotel style private rooms with air conditioning. Furthermore they offer the following services: Free Internet and WIFI, TV, living room, barbecue, bar, travel information, 24-hour front.
Direction: Venezuela 857
http://www.chelagarto.com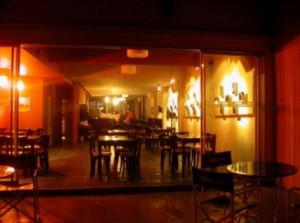 Che Lagarto Hostel
Ostinatto Hostel
The Ostinatto Hostel is a welcoming hostel with a relaxed atmosphere. It is located in San Telmo neighborhood, in a lively area with many cafes, bars, restaurants, art galleries, museums etc. Plaza de Mayo, Microcenter and Puerto Madero can easily be reached by foot.
The hostel occupies five floors which are all accessible by lift. On the first floor, there is a spacious communal kitchen and dining area for the guests. The main dorms are situated in the second and third floors. The rooms are functional and clean, the bathrooms are immaculate.
The Ostinatto Hostel has a ground floor piano bar which is open to the public. The basement features a common room with large TV which also houses art exhibitions which are changed once a month.
The place offers a luxury kitchen, a rooftop terrace, a small pool, BBQ place, Micro-Cinema, WIFI, free internet access, Yoga lessons, Tango lessons and more.
Direction: Chile 680
http://www.ostinatto.com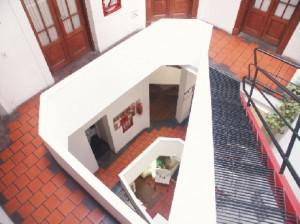 Ostinatto Hostel
HostelSuites
Hostel Suites is centrally located in the major tourist pedestrian road of the city – Florida Street. The Obelisk and the famous 9 de Julio Avenue are just a short walk away. The hostel is combined between hotel quality service and hostel fun atmosphere to make your stay unforgettable.
Rooms available from dorm to private, all rooms have private bathroom and air conditioner. There are mixed dorms, female and male dorms available. The hostel offers free Wifi and computers to the guests, a pool table, mini cinema etc. There are also daily activities organized by the hostel, which can be joined during the stay in Buenos Aires.
Direction: Florida 328
http://www.hostelsuitesflorida.com/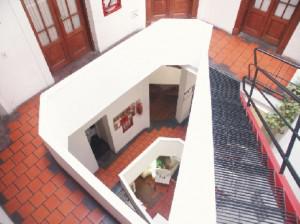 V&S Hostel Club
The V&S Hostel Club has 10 years of experience with foreign travelers and offers its guests rooms different styles and decoration. It is located in the center of Buenos Aires, only 500 meters from Colon Theater, the pedestrian and commercial street Florida and Corrientes Avenue, the avenue which boasts of many popular theaters.
The well-tended hostel contains off different dorms and private rooms to various prices. The Hostel Club V&S also offers a warm and bright common room, equipped with a wide screen cable television and a video library, Furthermore they have an internet room consisting of several computers equipped with flat screen monitors, webcams, headset and microphones (for Skype and MSN) as well as WIFI in the entire hostel.
For all passionate tango dancers, the hostel offers every Wednesday night tango classes in the hostel.
Direction: Viamonte 887
http://www.hostelclub.com/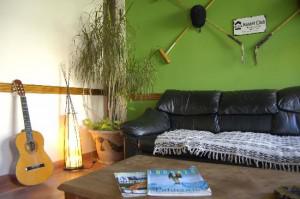 V&S Hostel Club
Lime House Hostel
A very friendly and conveniently located hostel, just in the corner of 9 de Julio Avenue and Rivadavia Street. It is easy, fast and cheap to get to the main attractions of Buenos Aires from the hostel.
LimeHouse offers a cable TV room, Pool table, and much more. They also have their own hostel bar. Breakfast is included in the price, and there is a fully equipped kitchen to use for the guests. They have laundry facilities and a key luggage store when you wish to travel without taking the entire luggage with you.
The hostel has dorms for 4, 6 and 12 people (12 people is the most affordable) and also private rooms for the people who want to enjoy more privacy. The bathrooms are semi-private.
Direction: Lima 11
http://www.limehouse.com.ar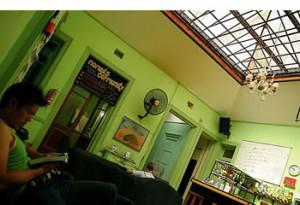 Lime House Hostel Buenos Aires
Sudamerika H&S Hostel
Another conveniently located hostel from Expanish Spanish School in Buenos Aires is the Sudamerika H&S Hostel. It is situated only a short walk from the "Obelisk" and the Avenue de Mayo which brings you to the famous "Plaza de Mayo. The hostel offers different types of rooms with common and private bathrooms. There is a high speed internet and telephone room, the entire hostel has WIFI access, they also offer a reading room and DVD/TV room as well as a bar and restaurant.
You can get dancing classes such as Tango and Salsa, transfers from and to the airports, bicycles rent and you will also find a travel agency in the hostel itself.
Direction: Hipólito Yrigoyen 951
http://www.sudamerikahostel.com.ar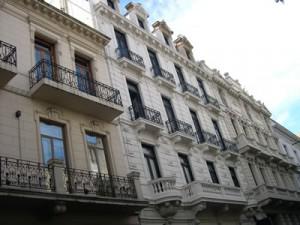 Sudamerika H&S Hostel
Ideal Social Hostel
"We are not the best hostel, we are the Ideal Hostel" – that's how they describe themselves in one sentence. The Ideal Social Hostel is located only one block from the Obelisk, in the emblematic heart of the City. It is a new, quiet pedestrian street, there are no busses or cars just people walking and cycling between the two most important avenues of the city center. They have comfortable 4-star mattresses, a spacious lounge with a bar. They are offering all rooms from dorms (12 beds) to private room for reasonable prices, breakfast included. Furthermore, they offer other services such as 24 hours reception, WIFI in the entire hostel, a kitchen for the guests on each floor, a bar, a social lounge place, TV, playstation and DVD offer, individual lockers. For all the football enthusiasts, they show live matches on TV that can be enjoyed while having a beer at the bar. Furthermore they have life music.
Direction: Suipacha 362
http://www.idealsocialhostel.com/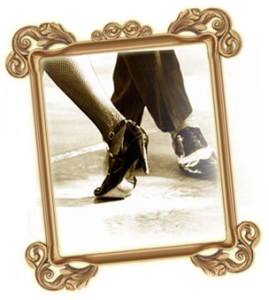 Ideal Social Hostel