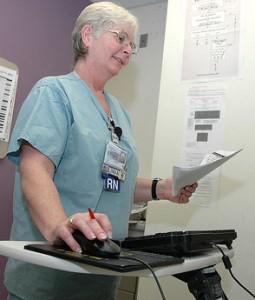 The Hospital de Denia in Spain was recently recognized for implementing the first all digital medical records system in Spain, and only the second in Europe.  Electronic medical records (EMR) are a key component of the American Healthcare Reform Act (PPACA), and are widely recognized as essential for increasing the efficiency of medical care worldwide. 
According to Marcos Garcia of the Cerner Corporation, an American based company with international offices, the new Cerner system in Denia, Spain allows health administrators to "analyze health care quality, efficiency and to support clinical practice.  The system guides and helps clinical decision making, enabling an increased quality of care and patient safety." 
The paperless system allows for the integration of outpatient visits, diagnostic testing, surgical procedures, hospital discharges, and even medications.  Providers are able to access all patient information real time across a number of clinics, physician offices, and hospital departments.  Vincent Moncho, the Director of Information Systems for Hospital de Denia, is particularly pleased with the mechanism for monitoring prescribed medications given in the hospital — a major source of preventable treatment errors.  "Thanks to the closed medication loop we contribute to patient safety, because the medication arrives to the patient's bedside, where the nurse, after identifying the patient, will be able to verify the five rights in one single screen: right patient, right medication, right dosage, right time, and right route."
It's hard to say how quickly this trend will spread to other countries across the globe or even in the U.S. where providers are reporting 58% EMR usage (up from 24% in 2005).   We'll keep an eye on expansions in this area and its potential impact on international travelers.  
Photo by MC4 Army.