VN:F [1.9.20_1166]please wait...Rating: 10.0/
10
(1 vote cast)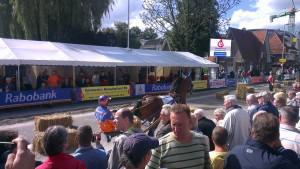 A horse and rider making their way to the starting line
You don't have to go far to get a taste of 'real' Holland. Just a half hour from Amsterdam, the town of Purmerend closed off a main road to indulge in a provincial tradition: Kortebaandraverij, short course horse racing.
In a North-Holland tradition dating back over 200 years, 26 horses compete in a knockout series of 300 meter races with the rider following behind sitting on a buggy, hanging on for dear life.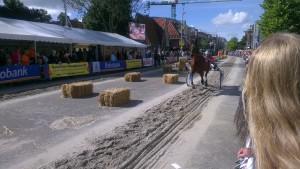 Here they come!
It seems as though the whole town comes out to watch (does nobody work on a Thursday?). It doesn't hurt that beer is readily available in tents and gambling abounds.
Today, the sun was shining and everyone seemed to be enjoying this traditional sport. It seems like something that every town should try.

© 2012, Amsterdam City Tours Blog. All rights reserved. On republishing any part of this post, you must provide a link back to this original post
VN:F [1.9.20_1166]please wait...Rating: 10.0/
10
(1 vote cast)VN:F [1.9.20_1166]Rating:
0
(from 0 votes)