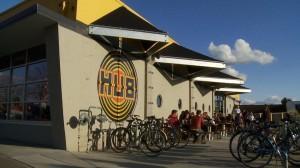 Big thanks to Jake from DC Homebrewers for the draft can!
Company
Portland, Oregon has more breweries/brewpubs than any city in the world, totaling close to 50.  Therefore, within that sphere, it is difficult to differentiate yourself from the pack.  One way in doing so is to have a mission statement, like Hopworks Urban Brewery.  The Brewery, which started in 2007, followed by a brewpub in 2008, strives to "produce world-class beer and food as sustainably as possible."  Digging a bit deeper, this means, according to Hopworks that every decision made must be good for the environment and the people in the surrounding community, while keeping Hopworks and their suppliers in business for the long haul.  This mentality has led to novel ideas (a Bike Bar), a host of awards for sustainability, including the Oregon Governor's Award, fresh beer, and a loyal following in a city that has more beer options than some countries.
Hopworks accomplishes all of this by being holistic about its approach to sustainable business.  From ensuring that its building were renovated with reclaimed materials and high efficiency appliances to providing benefits and other incentives for their employees.  Additionally, Hopworks works diligently to restrict water waste having installed low-flow toilets, built a water storage facility to catch and hold up to 1,100 gallons of rainwater (for outdoor cleaning), and even cut back on complementary tap water at the tables (although it is available on request).  Hopworks also recycles as much as possible, providing most of its spent grain to local farms, and ensuring that organic material be used as compost.  Ultimately, such actions allowed them to reduce the amount of waste put into landfills by 88%.  Finally, in 2011 Hopworks opened a bike bar (above),  which includes an extensive bike parking lot, and energy generating Plug-Out exercycles, which allow waiting patrons to generate electricity for the bar.  (Hopworks also incentivizes non-car commuting for its employees.)
All of their actions have led Oregon Business magazine to name Hopworks one of the greenest places to work in Oregon (May 30, 2013).  You can check out Hopworks' detailed  2012 sustainability report for more information.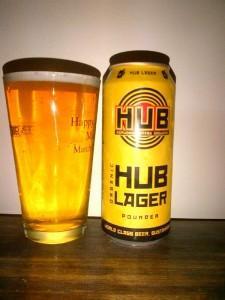 Beer – HUB Organic Lager
As Hopworks is not widely available in the US, as its distribution is still centered largely in the Pacific Northwest. I was lucky enough to have tasted the Organic HUB Lager, and other Hopworks beers, at a Brewers Association reception in Washington, DC during Craft Beer Week.  Hopworks' was one of the more visited tables, so just getting a hold of an entire can of this was a minor accomplishment.
I poured the Lager out of a draft can, and it came out a clean, sharp golden yellow, leaving about one finger of head at the top.  There wasn't much on the nose: mild hops (pine?), and some faint, funky straw.  Based on the look and the smell, I was not expecting much, but the taste was surprising, as the hops are relatively strong , creating quite a snappy lager.  I would say it resembled in flavor something of a pilsner/lager (like Victory Prima Pils) more than a lager/lager (like Sam Adams or Yeungling).  The mouthfeel out of the draft can was, as to be expected, a bit creamy, but it remained crisp, holding its carbonation for a while.  As the lager warmed, the hops mellowed a bit, but never lost its taste.  (Although pilsners/lagers are usually not a style you let "warm" on the regular.)  This lager lists its IBUs (International Bitterness Units) at 32, so it is a bit hoppy for a lager/pilsner, and at 5% ABV, it is pretty sessionable.  Worth checking out if you can find it (Dig that below…Lager-licious!).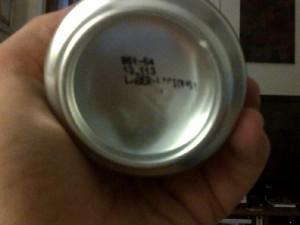 Hopworks also has a great red ale out, which is a tasty, well-balanced brew.
Ratebeer: 3.2/5
BeerAdvocate: 3.82/5