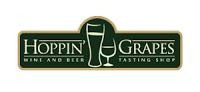 Welcome to the Hoppin' Grapes blog!  We are excited to start this business venture!  Take a look at some of our blog posts and give us comments and feedback on them so we can make changes using your input.
We are a small business, starting in a time of economic uncertainty.  Please follow our blog as we start to grow our business.
Right now we are starting with a blog, website, and social media (like facebook and twitter) in order to see if there is a desire for our type of business.  We want to be sure we have a good following of wine and beer enthusiasts before opening our doors.  In the relatively small community we are planning to operate, we know that local public support will be required in order to be successful.
We hope this online venture will help show us we are on the right path towards opening a retail shop.  We hope through sharing our ideas on this blog we will find encouragement as we move along through the more mundane experiences like finishing our business plan, seeking financing, finding retail space, exceeding government regulation, and finally opening our store!
Thanks for your interest in our blog and idea!  ~Hoppin' Grapes