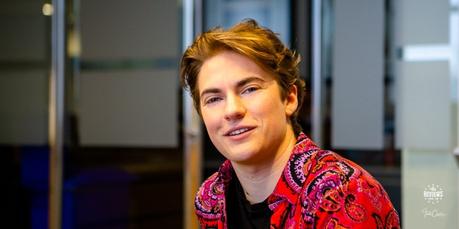 CTV's returned to screens across the country on Wednesday night, and at the end of episode two, T. Thomason was officially launched.
The Halifax native's version of Hope (written by Jocelyn Alice Strang, Jimi Bell, Bobby Campbell, T. Thomason) was immediately served to streaming services and radio, and by the time we sat down with T on Thursday afternoon to talk about the song, the show, and his music, we were already singing along with every play.
We first became familiar with T. Thomason's name late in 2018 with the release of his single, Loser. He played the song during his audition on The Launch season two, episode two, giving Scott Borchetta, Marie-Mai, Alex Hope, and Sarah McLachlan a taste of what he brings to the table as an artist, and moved onto the final pairing with Trevor LaRose from there. We asked T about Loser, and releasing the single during the time between the filming and airing of his appearance on The Launch. It's something that we haven't seen from other artists in the show's run thus far and we kind of like that. He told us that it was a) a great distraction for him to work on the song and release it while he was waiting, and b) an opportunity to start moving in a more pop music direction before Hope would be released in 2019.
That decision to move to a more pop filled sound was something that T had already been thinking about, so when The Launch presented itself as an opportunity, he jumped on it. We talked about that new direction, and with Hope leading the way, he feels like he has a chance now to follow that path and create new music.
And speaking of new music, there will be lots. T told us that he could release a whole batch of new songs right now if he needed to. He's been working behind-the-scenes and it was easy to tell by the excitement on his face and in his voice that he's looking forward to sharing it when the time is right.
This slideshow requires JavaScript.
As we chatted about the show and the song, there were a couple of things that we really wanted to get to. The first was the lyric changes that T brought to the team when it was time to record Hope. We mentioned season one and Elijah Woods x Jamie Fine making changes to Ain't Easy as a comparable situation, and it turns out that it was much the same circumstance. As a songwriter, T heard the song, sat with it, and started seeing ways to really make it his own. And it all went from there. We also asked him about his connection to the song.
In the episode, T. Thomason said that Hope started to feel like a letter to himself. That's a powerful connection to be able to have to a song he didn't write himself. It also allows for a more emotional and powerful performance, feeling the lyrics and music plays. We asked him if there was a moment that the song started to feel like it was his, and he told us that it came when he heard the final cut of the song. When he was at home, alone and listening to the track, the big synthy chorus came in and he knew that they'd nailed it.
And now, with the release official, T can share it with the world. He told us that he needed it to be time, the secret was becoming hard to keep, and the excitement of sharing Hope with the world was building.
T. Thomason isn't new to music, but his name is new to a lot of listeners thanks to The Launch. And we should all be ready to hear more from him in the future.
While we were with T at Bell Media offices on Queen Street West in Toronto, we got him to play a round of 5 Quick Questions with us. Hit play to find out which album he's playing on long drives, who he'd love to duet with, and more!
Thanks again to T. Thomason for taking the time to hang out with us. Stay tuned for more from The Launch season two!