Another great comment I received on my recent Washington Post article "Five Myths about J. Edgar Hoover," came from Charles Elliott, a journalist at the time who participated in a key investigation of Ho

over
.  Here's his full description of the episode from his blog
Clarity Research: Ruminations of a researcher/writer.  He's given us permission to reprint it here: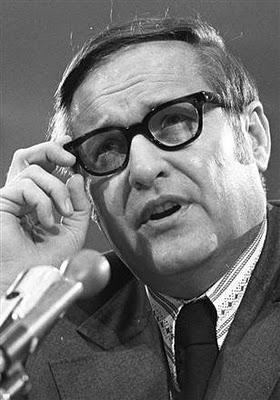 Columnist Jack Andrerson, circa 1970.  Anderson
reached an average 40 million readers through his
"Washington Merry-Go Round" column, and had
a proud spot on President Nixon's "Enemies List."
 
When I saw it recently, Clint Eastwood's interesting new film, "J. Edgar," stirred old memories for me. I know firsthand that he got at least one thing wrong, and missed another major opportunity to accurately portray long-time FBI director Hoover in his last days. 
In 1971, I was a young reporter in Washington, D.C. Eager to prove my investigative reporting chops in the big leagues, I had just transitioned to a position as a leg man for columnist and ABC TV personality Jack Anderson. Anderson had heard that President Richard Nixon wanted to replace the top G-man. So Anderson decided to put Hoover under surveillance using the same techniques that the FBI was then known to be using against Jane Fonda and others accused of no crimes but being harassed by the government for opposing its policies, especially the Vietnam War. I was sent out to interview Hoover's neighbors in his upscale Northwest Washington neighborhood, stake out his house, follow his chauffeured limo, watch him and his number two man, Clyde Tolson, as they ate lunch every day at that same corner table in the Rib Room at the Mayflower Hotel up on Connecticut, and pick up Hoover's trash.There is a reference in the film to the possibility of going to Tolson's "house" for dinner. But I know firsthand that Tolson actually had a highrise apartment in 1971, not a house. I know because Anderson had heard that Tolson owned a collection of antique vehicles formerly belonging to major crime figures arrested by the FBI. So he sent me out to look. Tolson's building had a parking structure underneath, I found, and there were, indeed, several antique black vehicles from the 1930s parked there.The Eastwood film does not include any reference to Anderson or my work for him. But at least two major biographies of Hoover included an account of my escapades picking up Hoover's trash. I did so on several occasions, the most notable being one morning with a reporter from Washingtonian Magazine riding along with me.The L-shaped alley adjacent to Hoover's two-story brick house ran behind to the west and then on the north to the street east of the house. When we pulled up to the trash cans in the alley beside the house, we noticed that Hoover's limo was still at the curb out front, engine running, and a film crew from ABC was across the street. Apparently the film crew wanted to grab a quick interview with Hoover on the way to work, but Hoover was refusing to come out of the house until they left.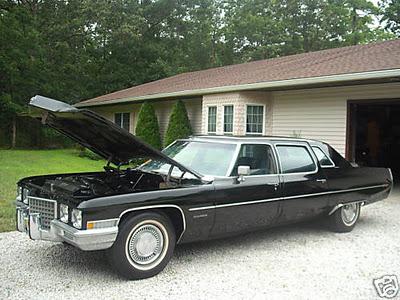 Hoover's official car in 1971, a Cadillac Fleetwood,
recently sold on eBay for $6,677.77.
Click here for that story.
 Nonetheless, I opened the trunk of a large car I had borrowed for the occasion, and began loading Hoover's trash into the car. Suddenly the film crew noticed me and began filming. That alerted the people in the house to my presence. Within a minute or two, Hoover's chauffeur — a tall black man who seemed to be nearly seven feet tall — came to the side gate and loomed over me.
"What do you think you are doing?" he demanded.I knew the applicable law at the time in Washington was English common law, which held anything put out as trash to have been abandoned by the former owner. Anyone could legally pick it up."He put it out to be picked up and I am picking it up," I said simply, continuing to load the car. Fortunately the film crew continued to film. My chances of being assaulted or at least physically restrained seemed diminished by their presence. I flashed them a "V" for victory.Meanwhile, my companion from Washingtonian remained in the front passenger seat in the car, but he was now shaking like a leaf."Don't you think you've got enough?!?" he kept asking piteously. "Don't you think you've got enough?"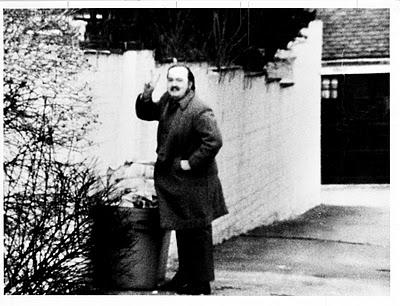 Charles Elliot in 1971 standing by Hoover's trash can, in 
alley on north side of the House.  Photo by ABXC news.
 When I finished my work to my satisfaction, I closed the trunk and we drove away.
 Anderson reported on the basis of these forays into Hoover's wasteland that the top G-man meticulously wrote menus for his housekeeper to prepare on small stationery emblazoned, "From the Desk of the Director." While he and Clyde generally had a light lunch at the Rib Room, evening meals were heavy with beef and rich desserts. Although Hoover had railed against the evils of drink in WTCU publications, the trash included miniature Jack Daniels Black Label Whiskey bottles. The public and private man seemed greatly at variance. And there were Gelusil packages, too. Anderson suggested tongue-in-cheek that it was possible Hoover no longer had the stomach for his job.Hoover responded dourly, "The only time I have indigestion is when I read a certain man's column!"  From my perspective, the major thing the Eastwood film missed, though, was Hoover's severe paranoia in his last years. Hoover's neighbors told me that he would not enter or leave his waiting car at the curb any time a long-haired youthful neighbor was anywhere within sight. And they pointed out that he placed a hat on the rear shelf of the limo, then sat on the other side and hunkered down. At the Rib Room, I also observed, Hoover and Tolson sat side-by-side with their backs to a wall, and vigilantly faced the entry way. The last time Hoover saw me there, he scowled at me.He must have been particularly shocked when he began trying to find out who I was, and learned that my roommate was the son of an FBI Special Agent stationed in Oregon, and that the large apartment we shared with two other young men had been rented in the agent's name. I do know that the agent was soon on the phone to his son, and the son made certain that I moved out. But not before a couple of men — one older, one younger — showed up with a large old Graphflex camera outside the building as I arrived home from the office. Since Anderson by then had written about my work regarding Hoover, I considered the possibility that they were with a wire service or some other news organization newly interested in my story."Who are you guys with?" I asked as they blinded me with the flash, taking pictures."Oh," said the older fellow in ominous tones, "we're just neighbors!" While taking the last of my things out of that apartment one day when my roommate was absent, I found a letter from Hoover to my former pal. "Thank you for your actions in regard to this Charles Elliott matter," Hoover wrote, adding to my astonishment that he especially appreciated my roommate's "concern for my personal safety." I also know Eastwood's film got the entry hall of Hoover's house all wrong, since I went to the door one morning and looked in through the screen while Hoover was away at work and a cleaning crew was in there with everything wide open. That entry way was sparse in the film, but the real one would have provided a telling indication of his character, since immediately to the right inside was a pedestal with an imposing, life-sized bust of J. Edgar Hoover. And the wall behind it was covered with such things as framed letters of commendation, plaques awarded for achievement and photos of Himself posing with presidents including Harding, Coolidge, Roosevelt, and Truman.After his death, Hoover's closed coffin was placed in the Rotunda of the Capitol,  and more than 25,000 visitors passed by to pay their final respects. The coffin was kept closed. A camera was set up at the bier, and everyone who passed by was filmed. Someone was making a movie, checking to see who showed up. As I recall, I smiled into the camera. That time, too.  
Chuck Elliott is a retired journalist who served as a featured daily columnist, investigative reporter and editor in local news and was managing editor of the nation's leading trade magazine for the propane industry. He has three published books on Southern California history, is a nationally published poet with more than 280 poems online at The Beautyseer Channel on YouTube, an award-winning fine art photographer, and freelances as a writer and marketing consultant. Visit him at Linked (
http://www.linkedin.com/profile/view?id=81992875&trk=tab_pro), read his Clarity Research blog,  and check out his poetry on YouTube.