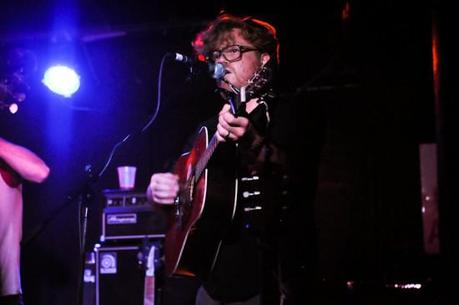 Photo credit: Lexi Namer
As the crowd at Mercury Lounge wavered between revelatory dancing and distracted social chatter, it was clear which songs in Hoots & Hellmouth's (@hootshellmouth) exuberant set were the favorites.
The Philadelphia band was intent on putting a "little funk in [the audience's] Friday" as songwriter/ guitarist Sean Hoots proclaimed. And not just funk, but blues, gospel, rock, soul and a little swing as well. Rounded out by Robert Berliner on keys and mandolin, Mike Reilly on percussion and Todd Erk on both acoustic and electric bass, the quartet played through songs from their entire repertoire, focusing on selections from their newly released album, Salt.
The crowd's enthusiastic reaction to the older songs was testament to their longevity. The bounding tempo and rapid-fire lyrics of "Home for Supper" (from the band's first album) had the audience bouncing and whirling around each other, their hands up in the air clapping along jubilantly. The down and dirty blues song "It's Close, I'm Come Undone" (from a 2008 compilation cd), with its gutteral moans, gospel rhythms and screaming harmonica had everyone writhing with desire. It was the best gospel you've heard city boys sing.
The evening began with two Boston bands: the guitar/cello duo Tall Heights (@tallheights), with tight arrangements and pleasing harmonies, followed by Darlingside (@darlingside). The five men in this band bring together a range of musical influences that result in dense compositions and a slew of musical styles. There are distinct phases in the songs sparked by changing tempos or melodies and occasional moments of ingenuity, such as dropping the instruments and clapping in rhythmic unison.
Their sound was an interesting juxtaposition with that of Hoots & Hellmouth, which seemed much more visceral, less intellectual, in comparison. Many of the headliner's songs bled one right into the next, with interludes of straightforward remarks from Hoots or Berliner sprinkled in. There was no time for dilly-dallying, as this was the early set and another line-up was right on its tails.
Without leaving the stage, Hoots stated matter-of-factly, "This is your encore, people," as the band erupted into the grooving blues song "What Good Are Ploughshares If We Use Them Like Swords". The song, like the others that inspired hell-raising cavorting before it, proved to be another crowd favorite.  It seems a little funk in their Friday is exactly what this audience was looking for, and exactly what they got.