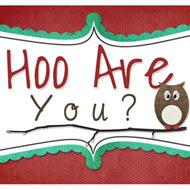 Here are this week's questions!
1. What are your favorite 3 things about fall?
2. Are you a football fan and if so who is your favorite team?
3. What is your favorite fall scent?
4. So you have seasonal allergies?
5. Have you started Christmas shopping yet?
My answers!
1.  My absolute favorite things about fall are the changing of the leaves, being outside in the cool crisp air with only a sweater and decorating the house for fall and Halloween!
2.  I am not much of a football fan, but I do watch it with my husband.  Since my family is from Michigan, my favorite college team is U of M - my husband is an Ohio State fan, lol!
3. My favorite fall scent is pumpkin pie - yum!
4.  I do have seasonal allergies, I can feel them coming on now  :(
5.  I have not started Christmas shopping.  I have not even gone birthday shopping, and my baby turns one is just a few weeks!  I will probably start Christmas shopping in early November.
Come play along at Night Owl Crafting!!