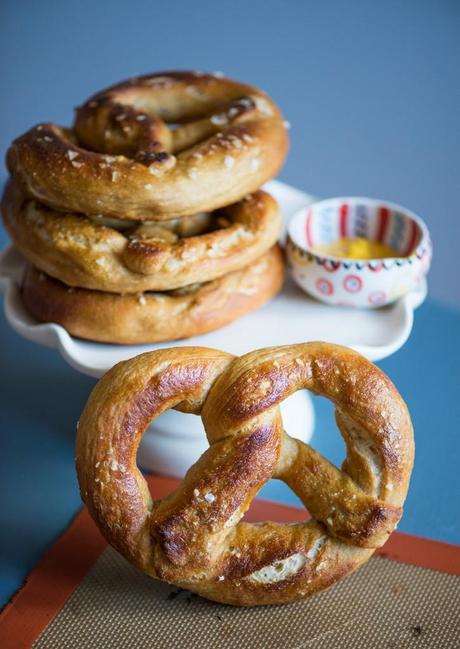 I can't stand the crunchy kind. Ryan, however, loves them…and I've seen Lucy reach for those brown salty sticks. I would only eat a bag if someone paid me (and a good sum at that). But I have an entirely different relationship with soft pretzels. Warm, buttery, doughy. Twisted again and again to allow for the contrast of caramel exterior and white interior. Give me a hot soft pretzel, and I'm in heaven.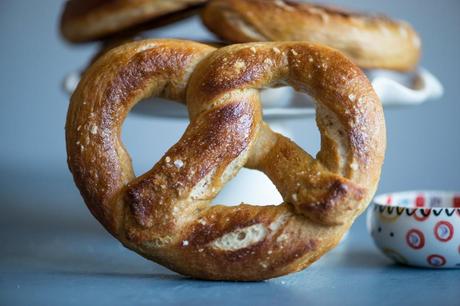 Ryan and I started making soft pretzels at home after a trip to see his family out east. The procedure can seem daunting at first. You have to boil your pretzels in a baking soda/water mixture if you want them to have that classic crust. But besides that added step, making soft pretzels isn't difficult. In fact, I can't think of a more relaxing way to spend a Saturday afternoon.
These soft pretzels are made with both whole wheat flour and honey. They're slightly sweeter than what you might find on the streets of Philadelphia but they're just as doughy and delicious. If not more.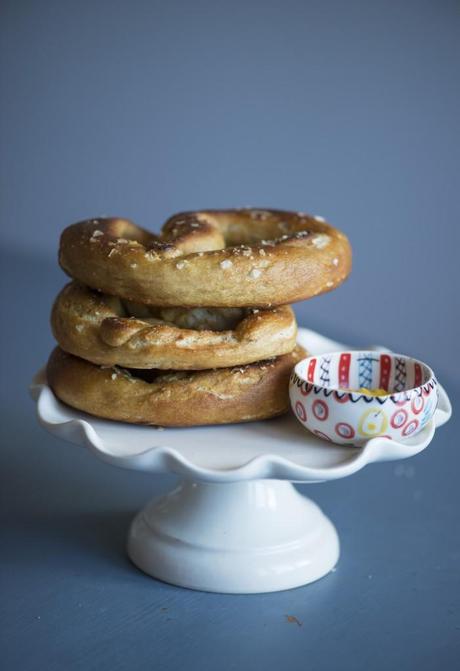 Honey Wheat Soft Pretzels
*Adapted from Food Network
1 1/3 cups warm (110 to 115 degrees F) water
2 teaspoons kosher salt
1 package fast acting yeast
11 ounces all-purpose flour, approximately 2 1/4 cups
11 ounces whole wheat flour, approximately 2 1/4 cups
2 ounces unsalted butter, melted
1/4 cup honey
Vegetable oil, for pan
10 cups water
1/3 cup baking soda
1 large egg yolk beaten with 1 tablespoon water
Pretzel salt
Combine the water, salt, yeast, flour, butter and honey. Using the dough hook attachment, mix on low speed until well combined. Change to medium speed and knead until the dough is smooth and pulls away from the side of the bowl, approximately 4 to 5 minutes. Remove the dough from the bowl, clean the bowl and then oil it well with vegetable oil. Return the dough to the bowl, cover with plastic wrap and sit in a warm place for approximately 50 to 55 minutes or until the dough has doubled in size.
Preheat the oven to 450 degrees F. Line 2 half-sheet pans with parchment paper and lightly brush with the vegetable oil. Set aside.
Bring the 10 cups of water and the baking soda to a rolling boil in an 8-quart saucepan or roasting pan.
In the meantime, turn the dough out onto a slightly oiled work surface and divide into 8 equal pieces. Roll out each piece of dough into a 24-inch rope. Make a U-shape with the rope, holding the ends of the rope, cross them over each other and press onto the bottom of the U in order to form the shape of a pretzel. Place onto the parchment-lined half sheet pan.
Place the pretzels into the boiling water, 1 by 1, for 30 seconds. Remove them from the water using a large flat spatula. Return to the half sheet pan, brush the top of each pretzel with the beaten egg yolk and water mixture and sprinkle with the pretzel salt. Bake until dark golden brown in color, approximately 12 to 14 minutes. Transfer to a cooling rack for at least 5 minutes before serving.