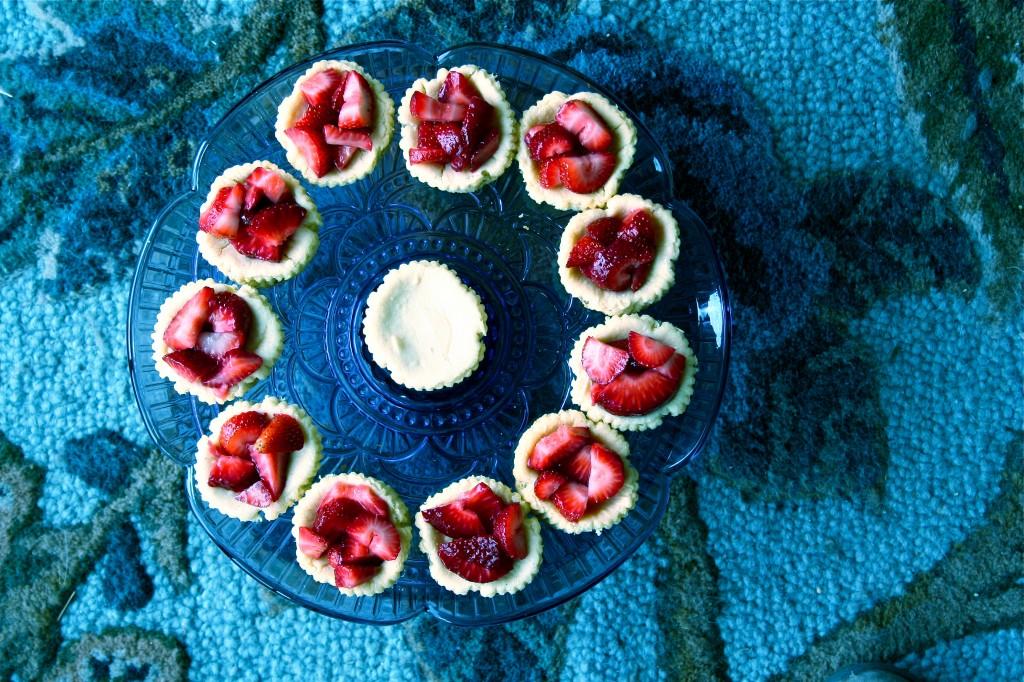 We only have nine more weeks before D-Day. It's hard to believe I'm now in the single-digit countdown! Of course, I'm well aware that little Lucy will make her appearance when she's ready (which most likely will not be on June 19th) but the imminence of her arrival is exciting. We're also settling into our house, which makes me even more eager to welcome the newest member of our family. She has her own room–painted a calm, light green–and her crib is set against the wall. I should have pictures to share soon…but right now, there are still a few too many boxes to consider her nursery done.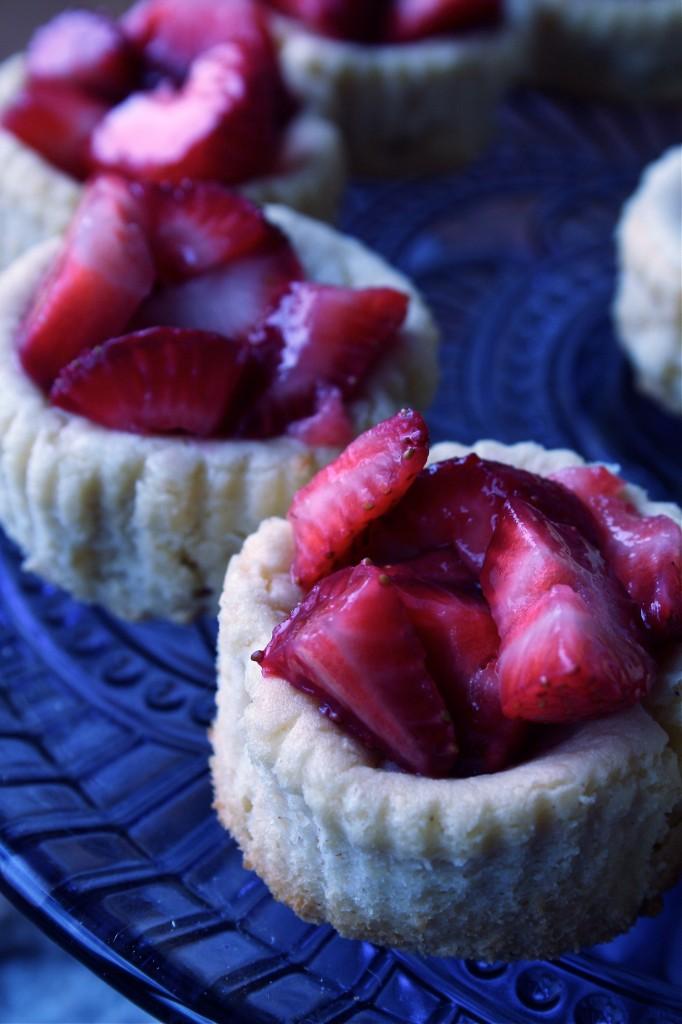 I've also been baking more now that I'm in my own kitchen, with my own mixing bowls and baking pans. Homemade doughnuts happened on Sunday, and these petite strawberry cheesecakes were born on Monday afternoon. I happily used a combination of McCormick vanilla and almond extracts, resulting in a subtle, more sophisticated flavor profile. And to put these mini cheesecakes over the top? I used local honey instead of granulated sugar. With our little one fast approaching, I'm trying to bake as many naturally sweet treats as possible. The local honey paired with the sweet strawberries put these cheesecakes into our "favorite" category. I brought them to a party on Monday night…and they were quickly and happily devoured.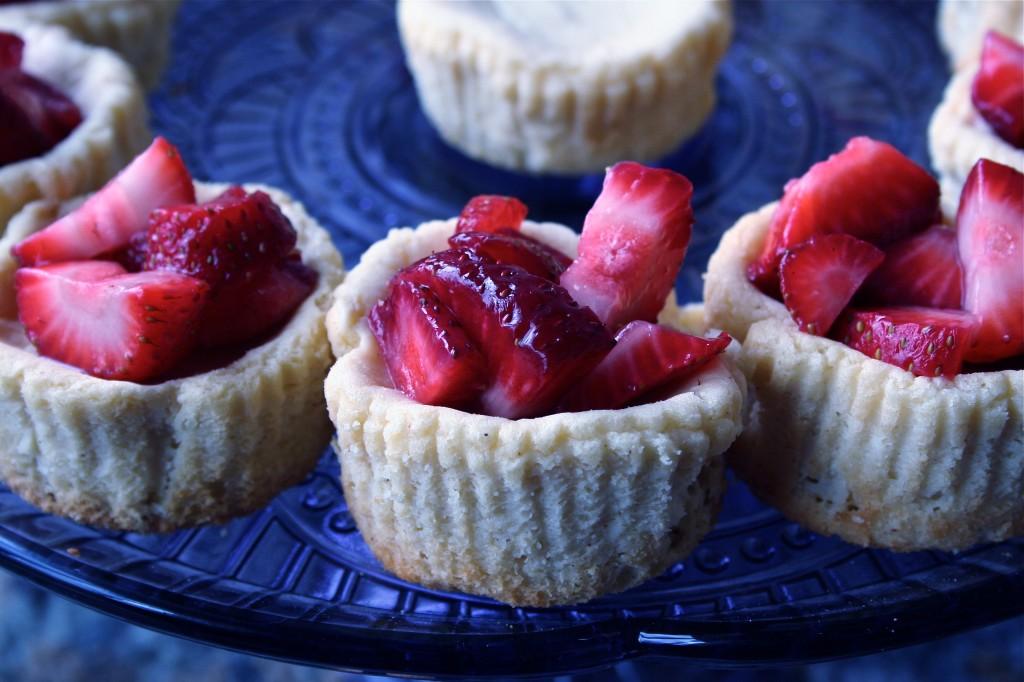 Cheesecake can be intimidating. When I went to make this recipe, I found forum after forum espousing complicated methods to achieve cheesecake magic. No doubt, these tips and tricks are worth exploring, but I'm happy to say that this is a simple and easy recipe. One you can make on a Monday afternoon, without the use of a water bath, a spring-foam pan, even a kitchen aid mixer. And because this recipe calls for honey (not granulated sugar) you can feel better about serving these to your kids (or eating a few extra yourself). Wouldn't these be a lovely Mother's Day treat?
So buy a bottle or two of almond and vanilla extract and find a good source of local honey. These come together in no-time, and they look oh-so-pretty on a cake stand or a decorative plate. But be warned, they won't last long. These were gone before the sun had fully set, and I found myself wishing I had made a double batch (just so I could fulfill a late-night pregnancy craving).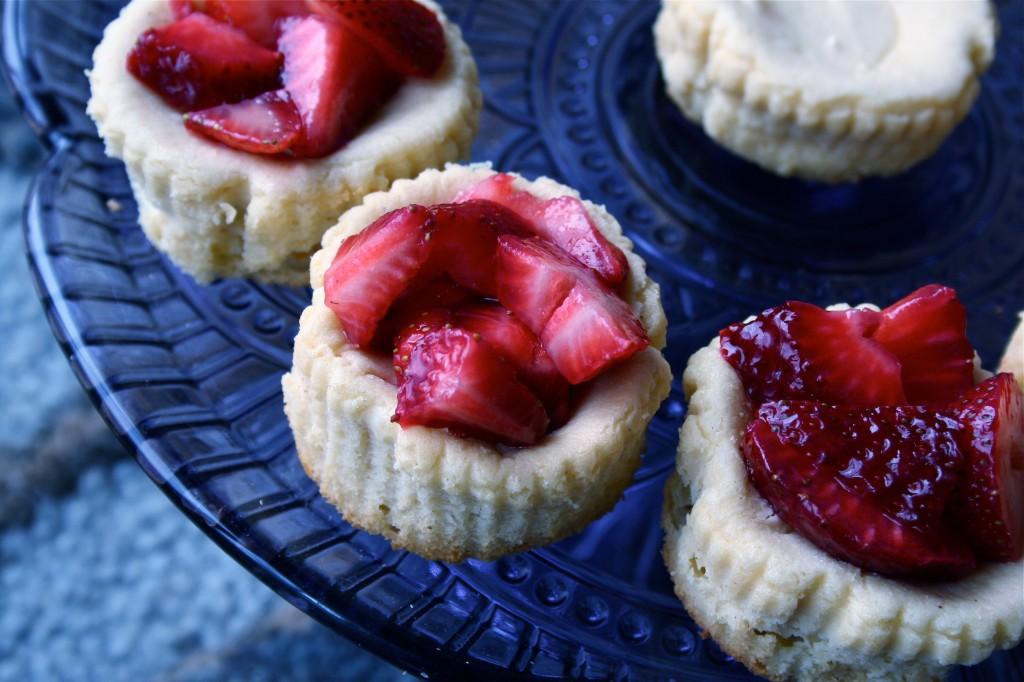 Honey Sweetened Mini-Cheesecakes
2 (8 oz) packages cream cheese
1/2 cup local honey
2 eggs
2 Tablespoons McCormick® Pure Vanilla Extract
2 Tablespoons McCormick® Pure Almond Extract
12 vanilla wafers
Strawberry Compote
1 1/2 cup chopped strawberries
3 Tablespoons local honey
Preheat oven to 325 degrees Fahrenheit. Line a 12-tin muffin pan with paper cups. Place one vanilla wafer inside each muffin tin. Set aside.
In a medium bowl, beat together softened cream cheese and honey until smooth and creamy (about 3-5 minutes). Add in eggs, one at a time, mixing well after each addition. Stir in McCormick® Pure Vanilla Extract and McCormick® Pure Almond Extract. Spoon batter into prepared muffin tins, filling each about 2/3 full. Bake in preheated oven for 22-24 minutes, until cheesecake has just begin to set. Remove cheesecakes from oven and allow to cool in pan for 10 minutes before removing to a wired rack to cool completely (about 30 minutes). Allow to fully chill in refrigerator before serving (at least four hours).
Meanwhile, combine chopped strawberries with 3 tablespoons of honey. Allow to sit in refrigerator for at least one hour before spooning on top of cooled cheesecakes.
Monet
Anecdotes and Apple Cores