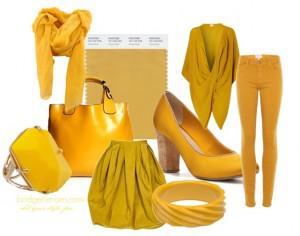 Yellow has been a trendy color for some time now.  Well, for fall 2012 it will continue, only the yellow color of the season is a Pantone shade called Honey Gold.  It's a golden yellow that you can call mustard, ochre or, if you really hate it, baby poop, I guess.
Personally, I like this shade of yellow.  It is a warm, earthy shade that works perfectly for fall, complements many of the other popular colors that will be trendy this coming season and looks gorgeous in leather goods.  A Honey Gold handbag?  Um, yes please!
To show you how you can wear this color, I've put together some looks to inspire you.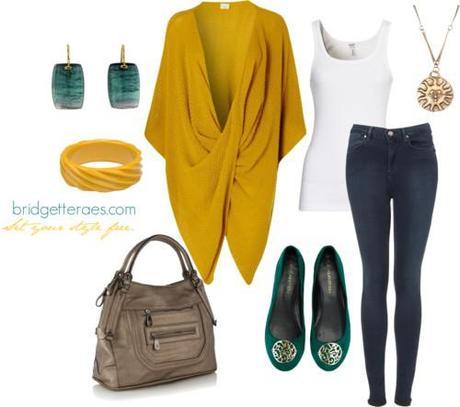 Casual, Honey by
bridgetteraes
featuring shoulder handbags
If you really like the color, you can look for it as a cardigan, a dress, a sweater or a top.  Make sure it works with your coloring before you purchase.  People with warmer coloring look better with Honey Gold near their face.
As an accent, I love teal and this color together.  Teal has been so popular for so long now that pairing honey gold with it would be a great way to bring teal into this fall season.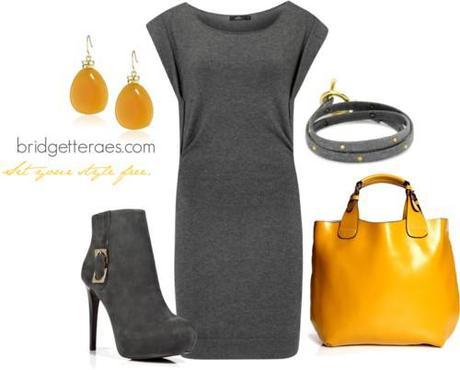 Bag, Honey by
bridgetteraes
featuring gorjana jewelry
With grey, Honey Gold offers warmth to a cooler color.  Like I mentioned earlier, a honey shade in leather goods is a beautiful and versatile shade that looks rich and sophisticated.  Looking for a versatile pop of color for your handbag, go for a honey color.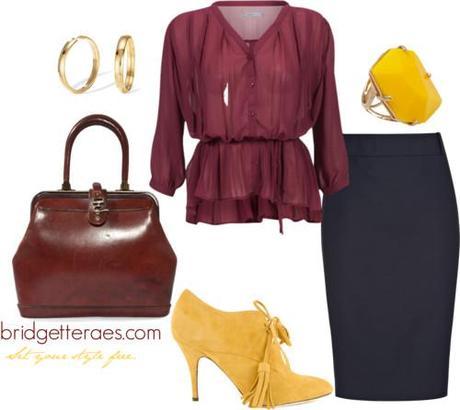 Shoes, Honey by bridgetteraes featuring vintage style handbags
Oxblood will be another popular color this fall and Honey Gold with oxblood is an incredible combination!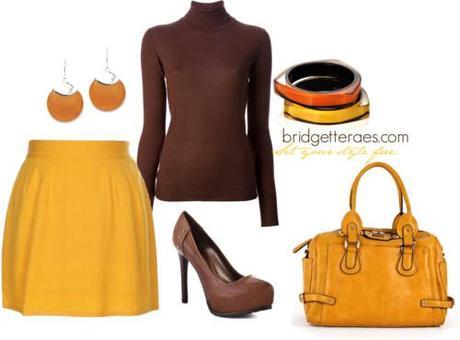 Skirt, Honey by bridgetteraes featuring high heel pumps
Want to wear Honey Gold in your clothing but don't want it anywhere near your face?  A Honey Gold skirt would be a perfect solution!  Here paired with browns and oranges, this color combination has autumn written all over it.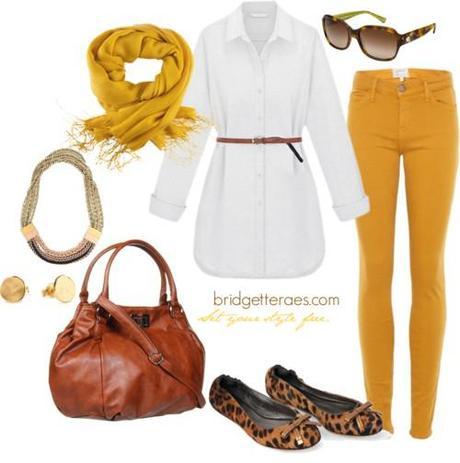 Jeans, Honey by bridgetteraes featuring current/elliott jeans
As the colored denim trend continues, Honey Gold is a great color to add to your wardrobe.  In jeans, the color looks more like a warm neutral and the color is quite versatile.  Imagine pairing your honey jeans with grey, navy, black, dark plum, oxblood, and more.