4 days ago, on April 12, 2015, Hillary Clinton formally announced that she's running to be President of the USA.
Her campaign is only a few days old and already the freaks are crawling out of the woodwork.
Andy Towle reports for TowleRoad: A Site With Homosexual Tendencies, April 13, 2015, that a San Francisco homosexual has launched an "I'd Bottom for Hillary" campaign and is selling t-shirts and tank tops "that promote one's willingness to receive anal penetration (metaphorically, of course) from the former Secretary of State who is now the top (ahem) Democratic candidate."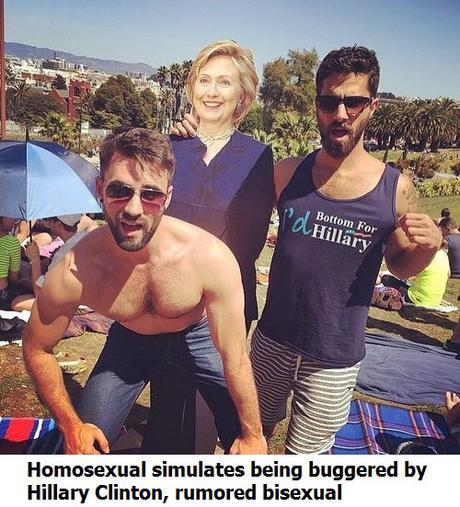 Writes the website "Bottom For Hillary":
We are small but powerful group that encourages Hillary Clinton to run for President in 2016. We recognize the unbelievable force that is Hillary Clinton. So much so, that we admit that we would willingly bottom for her.

It does not matter if you usually bottom, or if you usually top but can't resist the Clinton. She is a bad ass bitch. She is the head bitch in charge. She is the Ma'damnnnnn President.

Ideally we would be bottoming for her as we were voting for her.

We will display our love for Hillary but informing the world of our desire to bottom for her. Buy a shirt, have no shame, and vote for Hillary Clinton in 2016.

The website does not mention where proceeds from the garments will go or if it's a "for profit" venture but "Ryan" from Bottom For Hillary tells Fusion that he studied business and politics in college and has so far sold 30 shirts with no marketing.
Ryan explained to Fusion that desiring to be sodomized by Hillary Clinton is a compliment to her:
"With bottoming, there's a lot that goes into it. A lot of homosexuals understand the concept. Bottoming for someone takes a lot of trust and understanding…. Republicans…think ['I'd Bottom for Hillary' is] satire. It really is a compliment to Hillary."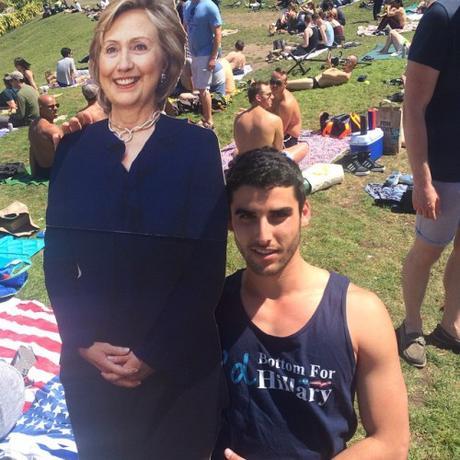 Inquiring minds want to know:
Does Huma Abedin "bottom for Hillary" too?
Huma Abedin, 38, is a long-time aide to 67-year-old Hillary Clinton and is the Vice Chairwoman of the 2016 "Hillary For America" presidential campaign. Abedin was Deputy Chief of Staff at the State Department when Hillary was Secretary of State. Before that, Abedin was traveling chief of staff and "body woman" during Hillary's 2008 presidential campaign. Abedin is the wife of former NY Congressman and exhibitionist Anthony Weiner, with whom she is said to have an "open marriage".
For "gay bowel syndrome" and other diseases from sodomy, i.e., anal sex, as well as the many other horrible diseases from homosexual sexual behaviors, see "What they'll never teach you in 'homosexual education'".
See also:
Arkansas State trooper: Bill and Hillary Clinton are swingers
Bombshell: Long-time Clinton associate says he killed people for Bill & Hillary
Destruction of Evidence: Hillary Clinton deleted half of emails from personal account used to conduct business as secretary of state
Papers of closest friend show Hillary Clinton to be ruthless & vengeful
Hillary: 'America should 'empathize' with its enemies'
This is what Hillary Clinton means by being 'dead broke'
Hillary Clinton was fired for lying when she was 27 years old
~Éowyn