Openly homosexual actor Neil Patrick Harris thought he was being very clever by hosting the 2015 Academy Awards wearing only his underwear. The next morning on Live With Kelly & Michael, he even boasted that the bulge is all his, as if anyone but sodomites would either be interested in or find that information important. (See "The Oscars go down the toilet")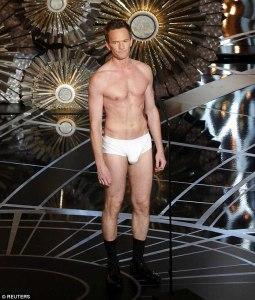 But even in our corrupt times of a corrupt pop culture and corrupt media, Harris' stunt fell flat, panned by critics. Reportedly, he's been down in the dumps about the "rejection."
Harris has two children with his "husband," actor/chef David Burtka — 4-year-old twins, Gideon and Harper, who were conceived via a surrogate mother.
The National Enquirer, admittedly, is a supermarket tabloid, although it must be said that if it weren't for the Enquirer, we would never know about former Democratic vice president nominee John Edwards' adultery and "love child" with political groupie Rielle Hunter. It was the Enquirer — not The New York Times, nor The Washington Post, nor the alphabet TV networks, including Fox News — which, alone, doggedly kept after and uncovered Edwards' infidelity, lies, and misuse of campaign donations to keep and house his mistress. For that, the Enquirer was nominated for a Pulitzer award. (See "John Edwards, a cad to the end")
Bob Hartlein reports for The National Enquirer that on March 3, 2015, Harris was seen in a fit of anger at his kids on a cold New York morning.
As recounted by onlookers and seen in the photos below, Harris was seen outside his Harlem townhouse, his face contorted with rage, dragging the boy by one arm down a steep set of icy cement steps.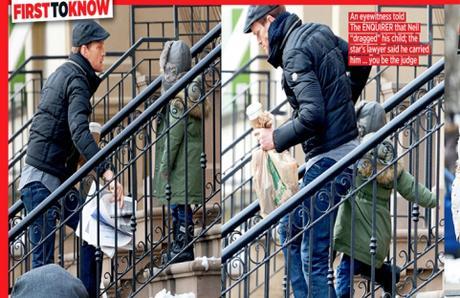 Without his husband or a nanny present, the 41-year-old entertainer had a meltdown while getting Gideon and Harper off to school.
Onlookers said they were horrified by his "outrageous" parental behavior. Said one spectator: "I was scared for the poor little boy because of the way Neil was acting – it was completely out of character. He had turned into the daddy from hell!"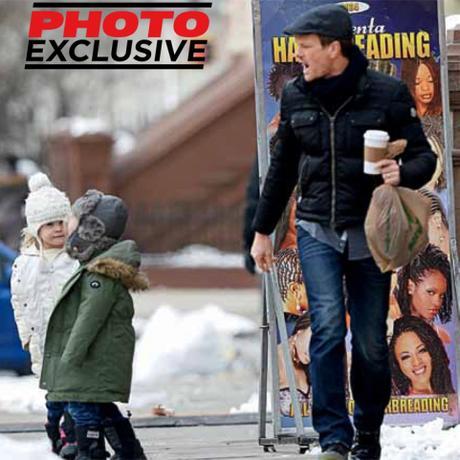 According to the eyewitness, Harris barked at his kids to come down the stoop to the street below – a steep incline of 12 cement steps. The eyewitness explains: "Normally, as a parent, you'd want to hold your child's hand and help them navigate down the steps – but Neil didn't do that. He went ahead of them. Harper scampered down to join her dad without incident – but her brother appeared to need extra coaxing. Neil was very impatient – and when Gideon was slowly plodding along, reaching to about the fourth step down, Neil angrily shot back up and roughly grabbed a hold of his little boy's arm. He dragged the kid the rest of the way down. Neil had a jawlike grip on the child, causing him to cry. But he still yelled at him to hurry up!"
Once on the sidewalk, Harris – carrying a shopping bag and holding a coffee – quickly began walking down the street, leaving both children behind. "Gideon was still crying, but Neil didn't seem to care. He wasn't looking back at the kids," said the eyewitness, adding that the children finally caught up to him and he hustled them into a waiting town car.
In a response about the incident to The Enquirer, Neil Patrick Harris said he did nothing wrong. His lawyer Martin Singer downplayed the incident, insisting Harris was simply "trying to get his 4-year-old twins into the car to take them to school," and that "His son was misbehaving and refusing to walk to the car so Mr. Harris lifted him and carried him to the bottom of the steps. Mr. Harris did not drag Gideon down the steps, or injure him in any way The allegation that Mr. Harris committed child abuse by dragging his child down cement steps is outrageous … Mr. Harris was merely disciplining his child, as any responsible parent would do. Taking one's child by the arm to direct his or her movements is much less severe than administering a spanking to the child."
Do you agree with the Enquirer that Harris was abusing 4=year-old Gideon?
I can see snow and ice on the steps even in the photos. I fully empathize with Gideon and understand why he was hesitant and slow going down the steps. If I were Harris, instead of forcibly dragging the boy down the steps, I would simply pick the child up and carry him down.
~Éowyn