Tom Ford, 53, is an openly homosexual American fashion designer and film director.
He gained international fame for his turnaround of Gucci and the creation of the Tom Ford label before directing the 2009 Oscar-nominated film A Single Man. Ford and  his husband, Richard Buckley, a journalist and former editor in chief of Vogue Hommes International, have a son, Alexander John Buckley Ford, born in September 2012.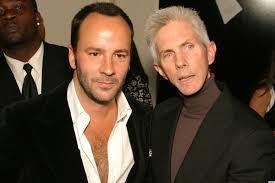 Tom Ford (l) & Richard Buckley (r)
Below is Tom Ford's latest jewelry design — a necklace with a pendant of a penis and testicles in the shape of a cross, which Harper's Bazaar magazine breathlessly calls a "crucifix/penis necklace" — "Tom Ford's surprising charm necklace: Christmas shopping dilemmas, solved":
It comes in three sizes, small, medium and large—so at the risk of offending anyone, we'd argue this is no time to get frugal. Large it is, for anyone on your Christmas gift list from the Samantha of your group, as a fertility talisman to the lady in your life looking to procreate, to your tongue-in-cheek Tom Ford-loving gay bestie or to that man who is proud as a peach with what he's working with.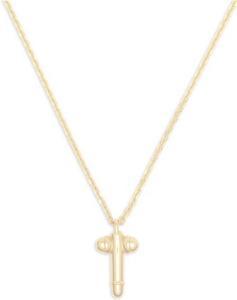 On the Tom Ford website, the "penis pendant necklace" of small, medium, or large size sells for $790.
Tom Ford would NEVER ever design/sell a necklace with a pendant that mocks Mohammad or Islam.
Any wonder why orthodox Christians regard Hollywood and in-your-face homosexuals with such disapprobrium. (Note: The U.S. media have made "orthodox" a negative word, but the word simply means "correct teaching.")
See also:
Demonic 'Hunky Jesus' contest at Easter

Fox's 'Family Guy' portrays Jesus as sex-crazed adulterer

Obama's FCC turns blind eye to network TV porn of fisting, anal sex & penis jokes
~Eowyn