Do you know your local Edible Communities magazine?  These inspiring regional magazines focus on local produce, local producers, with beautiful pictures and  a generous helping of great recipes.  This isn't the first time I've blogged about a recipe I found in my local edition, and surely won't be the last.
Since the magazines also spotlight what's in season in their neck of the woods, it was little surprise that tomatoes were featured in the latest issue.  Though I usually tend towards fruit pies (or tarts!), I jumped at the chance to make a savory version with the tomatoes our neighbors gave us.  (And tomatoes are technically a fruit anyway, so I haven't strayed too far out of my comfort zone).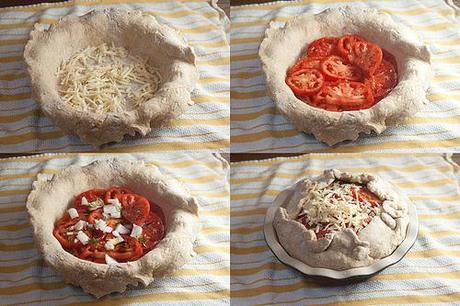 Incidentally, the fact that our neighbors are swimming in tomatoes while I've gotten none seems to indicate I can't blame the weather for my failed crop.  But let's not dwell on that.  I do have prolific thyme, however, and used this generously in my pie.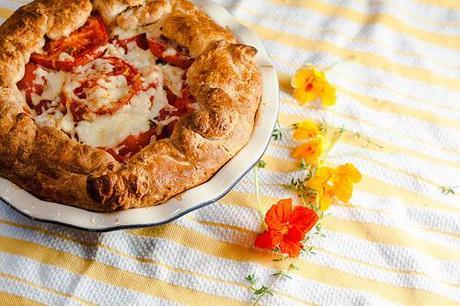 This pie is surprisingly easy to make–even if you're uncertain of your crust-making prowess, you'll find this dough is easy to roll out.  No fluting or braiding is necessary–uneven torn edges are desirable as they only contribute to is rustic aesthetic.  On the other hand, you'll want to allow a few hours for this pie to cool–because it is so juicy, it really needs that extra time by itself to set up.  You can eat it before then, just know that it might not hold together all that well on the serving plate.  It won't affect the taste.
What's wonderful (and surprising) about this pie is that the tomatoes retain much of their fresh flavor–the slices retain their integrity, and don't break down (lest you worry that you'll be eating a giant calzone).  The crust, made with buttermilk (or in my case, yogurt) is little more than a biscuit dough rolled into pie proportions–with an extra handful of cheddar thrown in for good measure.  Enveloping a mix of strong cheddar and toothsome tomatoes, and it doesn't get more homey than that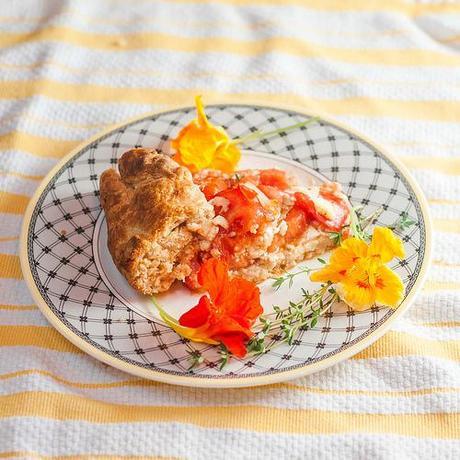 My tomatoes may not have done well, but my nasturtiums took to our raised bed garden as happily as our thyme–these are the pretty little flowers I've strewn around these photos.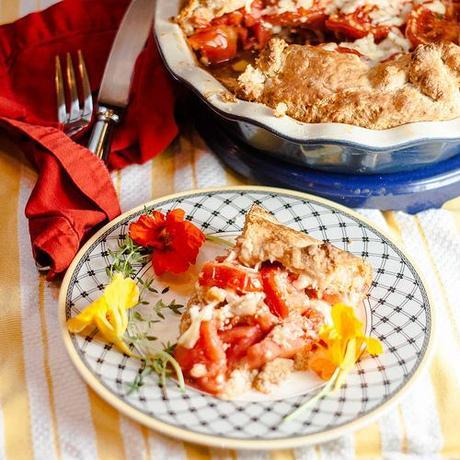 Homey Tomato Cheddar Pie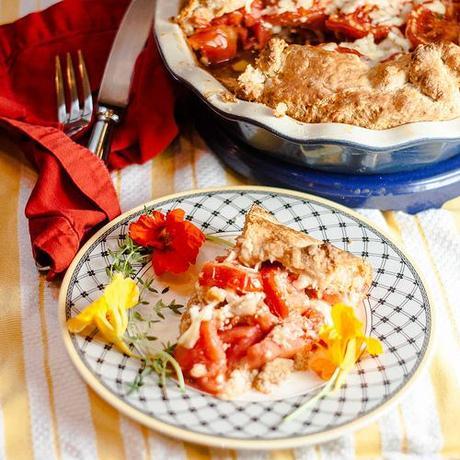 Print
  Serves:
6-8
Ingredients Crust:
1 cup all-purpose flour
1 cup whole wheat flour
1 tablespoon baking powder
1½ teaspoons salt
1½ sticks cold unsalted butter, cut into small pieces
½ cup cold buttermilk or plain yogurt
1 egg
1 cup grated cheddar cheese
Filling:
2 pounds assorted ripe tomatoes, cored and sliced
2½ cups grated sharp cheddar cheese
¼ cup extra virgin olive oil
1 tablespoon balsamic vinegar
1 shallot, finely chopped
1 teaspoon salt
1 teaspoon freshly ground black pepper
Several sprigs of fresh thyme
Instructions
Preheat oven to 425°.
Lay the tomato slices on a baking sheet lined with paper towels and top with more paper towels to absorb their liquid. Allow to drain for 30 minutes while you make the crust.
In your food processor, combine the flour, baking powder, and salt. Add the chopped butter and process until it's crumbly and pea-sized. (Alternatively, use a pastry cutter to work in the butter, or rub it in with your hands). Whisk the buttermilk and egg together and pour the mixture in through the feeding tube. Stop, add the cheese, and then continue to process until it forms a ball.
Dump the dough onto a floured surface. Knead a few times until smooth, then roll out with a floured rolling pin to an 11-12 inch round. Fold into quarters and transfer into a 9-inch pie pan, gently unfold the crust, press into the bottom of the dish, and cover with plastic until ready to fill and set in the fridge.
Stir together the olive oil, balsamic vinegar, shallot, salt, and pepper.
Sprinkle a handful of cheese onto the bottom of the crust and top with a layer of tomatoes. Season the tomatoes with salt and pepper, drizzle on some of the oil-vinegar mix, then top with more cheese and some thyme. Continue making layers like this until all the ingredients are used up, saving the prettiest tomatoes for the top layer. Finish with a layer of cheese and thyme. Fold the overhanging crust onto the top layer of filling, like a crostata. Paint the crust with milk or buttermilk.
Bake until crust is light golden brown, 30-40 minutes. Check halfway through baking to make sure the crust isn't getting too dark—tent with foil if needed. Allow the pie to rest at least an hour (ideally longer) before serving.
3.1.03