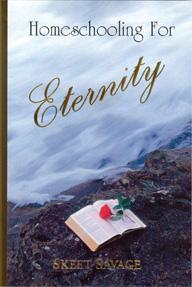 I've truly been blessed by the book,
Homeschooling For Eternity
.
In it Skeet Savage encourages the homeschool parent in small, manageable chunks that are a perfect morning devotional alongside daily Bible time.  What a great way to be strengthened during this busy season!
"This book has not been written by or about the perfect homeschooling family.  Rather, it contains the simple testimony and practical advice of a veteran homeschooling single mother who successfully raised six children as she invested her life in full-time service to the Lord while trusting Him to provide for their needs and hold their family together against enormous odds."
Broken down into 31 short chapters covering a wide variety of topics guaranteed to help you keep an eternal focus.
Skeet shares her heart and wisdom soaked with scripture in a warm, and straight forward manner often using personal experiences to complete a particular point.  I'd go so far as saying I'm amazed that she's so forthcoming with the struggles in her life.  But, I LOVE that she's shared them AND the sweet victories that God has given her through them all!
If you're a busy parent who needs help focusing on the eternal rewards of homeschooling, but don't have an abundance of time, this book is perfect for you!
Disclaimer:
I received a copy of this book free of charge in exchange for an honest review. This post written and property of Homeschool Circus and can be found at: www.upatdawnreadytowork.com.