Hi girls...
   In my last post i shared gel face mask with you all. Today am going to share with  you all how i recreated lush oatifix face mask. Lush has many products that are free from harsh chemicals but their products are expensive, so i thought to recreate it's face pack. This is not exactly the replica of lush oatifix face mask but i recreated with it's key ingredients and the results were amazing. So i thought to share with you all.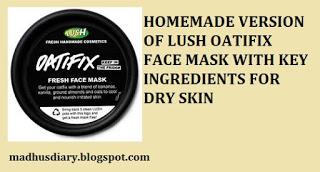 So let us take a look at it's ingredients,
Glycerine, oatmeal, fresh organic bananas, water, almonds, illipe butter, kaolin, talc, vanilla pod, sandalwood oil, Benzoin resiniod,coumarin,benzyl cinnamate, linalool, perfume,gardenia  extract. 
So these are the ingredients used in lush oatifix face mask.To recreate this face mask we need the following ingredients,
⦁   Banana - 1
⦁   Oatmeal-1 cup
⦁   vanilla essential oil[or]essence- 3 to 4 drops
⦁   Glycerine- 1 spoon
⦁   Almonds- 15 to 20
⦁   Sandalwood oil[or] powder- 2 to 3 drops[1 spoon in case of using powder]
⦁   Kaolin[or] Multani mitti- 1 spoon.
PROCEDURE
1.   Take almonds and oatmeal in a blender. Blend it until smooth powder consistency is obtained.
2.   Now take this in a bowl. In the same blender add 1 banana and blend it smoothly.
3.   Now add this banana to oats powder. Mix it well. Now add glycerine, vanilla essence, sandalwood powder,multani mitti and mix it well.
4.   If you feel that the face pack is sticky and thick you can add water and adjust the consistency.
5.   Viola our face mask is ready to use.
APPLICATION
   Clean your face with mild cleanser. Now take required face pack and apply it all over face and neck and wait for 15 to 20 minutes. Then wash it with cold water.
ALSO READ
Rice water toner for smooth skin
Grapes face masks for all skin
Chocolate peel off mask
Skin brightening face pack
Homemade facial bleach
BENEFITS OF INGREDIENTS
Oatmeal: Oats exfoliate the skin gently. It removes impurities from skin. They soothe dry skin and reduces inflammation.It makes skin soft and silky.
Banana: Banana has multiple vitamins that helps to boost our skin. It hydrates dry skin very well. It also makes skin smooth and silky.
Vanilla extract: It has antioxidant properties. It also improves skin texture ans skin tone.
Glycerine: It maintains water level in skin. It prevents dryness of skin which in turn leaves skin soft and supple.
Almonds: It  improves skin complexion and also it acts as a good exfoliator.It removes dead cells and makes skin soft.
Sandalwood powder: It improves skin texture. It makes skin brighter with regular use. It also fades away scars.
Multani mitti/Kaolin : It removes impurities from skin. It also improves skin texture.
   This face pack works well for dry skin. It hydrates dry skin and leaves soft and supple. My mom has dry skin and it hydrates her skin very well. It makes her skin brighter. I have also used this face pack and it hydrated my oily skin to good extent. This face pack is life saver for dry skinned beauties for sure.
NOTE
   While mixing the ingredients try to use spoon.You can store the excess face mask in fridge and it remains good for 1 week. Now a days kaolin clay is available at online sites so try to use it or else you can multani mitti if kaolin clay is not available.