New to little Indiana? Subscribe for free to my RSS feed. Thanks for stopping by!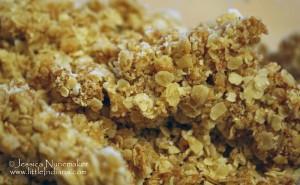 Homemade Granola Recipe
Homemade Vanilla Granola smells so good when it's baking thanks to a touch of cinnamon–but you'll the end result even more.
This easy granola recipe is yours to tweak! An old favorite from one of those large recipe websites (maybe Food.com?), feel free to add your own dried fruits or other spin. If you do, you'll wait to stir it in at the end so they do not dry out.
I love this as a dry snack. I love this with a bowl of milk. I even love this crumbled up and thrown on the top of vanilla ice cream! See what I mean? Versatile!
Homemade Vanilla Granola Recipe
Print Homemade Vanilla Scented Granola Recipe
Rating: 51
Prep Time: 10 minutes
Cook Time: 30 minutes
Total Time: 40 minutes
Yield: 8 Cups of Granola
Think of this recipe as your base!
Add in your favorite dried fruits.
Ingredients
4 Cups Oats
1 Cup Almonds, Sliced (optional)
1/2 Cup Brown Sugar
1/4 teaspoon Salt
1/8 teaspoon Cinnamon
1/3 Cup Vegetable Oil
1/4 Cup Honey
2 Tablespoons Sugar
4 teaspoons Vanilla Extract
Instructions
300* oven.
Grease baking sheet. Set aside.
Mix Oats, Almonds (if using), Brown Sugar, Salt, and Cinnamon together in large bowl.
Combine Vegetable Oil, Honey, and 2 teaspoons Sugar in saucepan. Bring to simmer over medium heat.
Remove from heat. Add in Vanilla Extract.
Immediately pour over oat mixture. Stir well.
Spread granola onto baking sheet. Press down with spatula.
Bake 20 -- 30 minutes or until golden brown. Do not stir if you want chunky granola!
Notes
Great base recipe from Food.com.
Schema/Recipe SEO Data Markup by ZipList Recipe Plugin2.0http://littleindiana.com/2012/08/homemade-vanilla-granola-recipe/Photos are the Property of little Indiana. Do Not Use Without Permission.
pictures in Indiana
little Indiana Tumblr blog
Just don't forget to tell 'em that  little Indiana sent you!
Don't miss a moment. Subscribe to little Indiana and receive instant updates to stay on top of everything "little."
little Indiana: Where to Stay, Play, and Eat in Small Towns in Indiana. Discovering Indiana's best small towns! Now get little Indiana on your Kindle.
Targeted. Relevant. Affordable! little Indiana advertising.