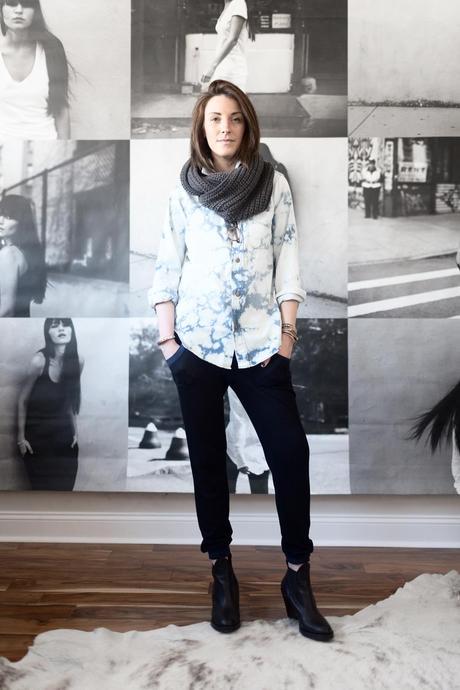 I was a naive 22-year-old entering the work force when I was seated next to Mileena Reynolds. I was just starting as an assistant technical designer for jackets and she was a seasoned technical designer for skirts. Tall and with terracotta-colored hair a few shades darker than mine, she had her shit together. She was older than me by just a year, but her demeanor surpassed mine by a decade. She knew her specs, and could spot if a skirt's waist measured 1/2" over; she didn't need a measuring tape. And bulk fitting? She could fit 40 skirts in less than 2 hours and send her corrections (fit comments) to the vendors by the end of the week. Cynical and intimidating, I looked up to her. She held tightly the reigns on her life and was in full control of the direction she was headed. Or so it seemed. Kate is the CEO and Creative Director of TOGGERY, a USA-made, knitwear company based in Philadelphia, who like Mileena, seems like the gal who knows where she is going. With a background in business, she launched TOGGERY a few years ago, and has grown it into a label that is sold online and in boutique and department stores across the US. Unlike Mileena, she smiles, doesn't belittle and cracks jokes. She even had coffee ready for both of us when I arrived for our interview. A smart girl, she knows caffeine is the perfect topper to an outfit.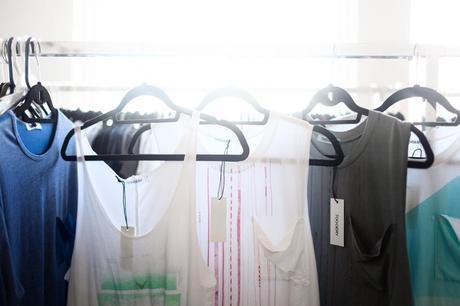 Hi, my name is Kate and I am the founder of TOGGERY. Through good times and bad, my parents owned and operated a Harley Davidson dealership for almost 40 year, where I worked until after college. I know it's odd to move from motorcycles to women's knits, but since I can remember, I have been dressing up knitwear. Plus, I learned many important lessons about maintaining a profitable business and asserting yourself as a leader while I worked for my parents. The most important being that there are really no "off days" as a business owner. Everything from a delay in production to a glitch on the website can come at any time, so you have to tend to every aspect of marketing, operations, finance, manufacturing, distribution, etc. around the clock.
My background is in business operations and I dove into the fashion business in spring 2006 with an original line of knit dresses named Kathryn Jessica. I produced and sold them in open-air markets and small specialty stores (along with helpful personal orders from friends and family). That line helped me learn the overall business model and how other companies in the fashion industry work. In 2007, I had the opportunity to expand into tops, bottoms and dresses and sell garments through wholesale channels. That's when TOGGERY became what it is today. I'm now the CEO and Creative Director, and my partner, Alison Latta, is the Chief Financial Officer. Together, we work hard in TOGGERY's showroom and with marketing and manufacturing partners who are critical to our success.
TOGGERY is a synonym for clothing. The word choice struck me as a stylish way to capture what we are trying to do, which is to provide everyday knitwear at an attractive price.  Our brand is all about blending precision-cut styles with ultra-soft, high quality fabrics in order to provide a superior look and feel for modern women.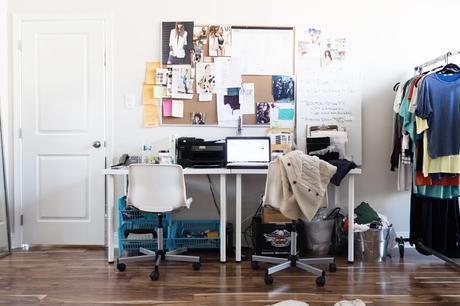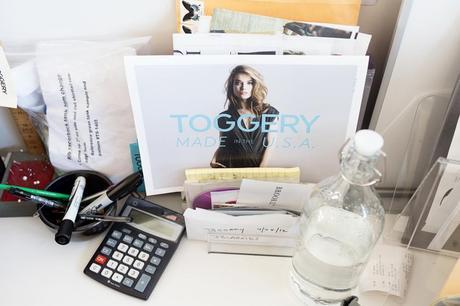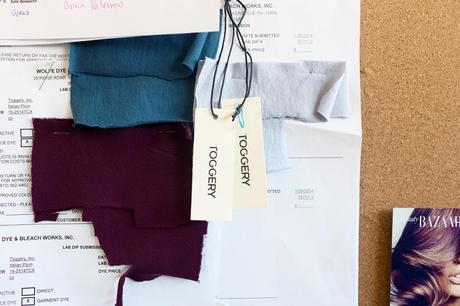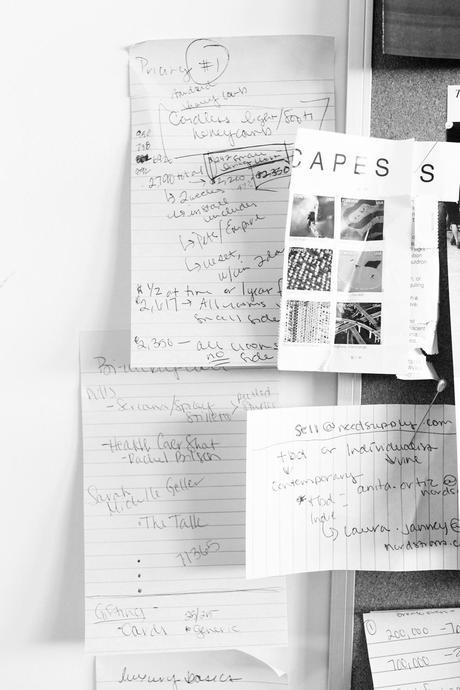 We have two phases of our production process. The first is development, where we create and design the product that we show to wholesale buyers, and the second is the production of the styles that are bought. Grouping these two cycles together, this is an overview of our production process.

Inspiration board – We pull images that inspire us, considering everything from silhouettes, grouping of colors, muses, Instagram picture we love, favorite artists, etc. This process is all about getting the creative juices flowing.

Sketches – In this stage, we edit our inspiration and choose which styles we want to create for the collection.

Pattern Maker – After sketching the styles, we assign fabrications and then hand a tech pack to a pattern maker in Philadelphia who handles the technical design/pattern making.

First Round Samples – Once we receive the patterns, we cut and fit a sample. In this stage, we'll make adjustments to the style based on feedback we receive and our own intuition. For example, we recently had a style that originally had a ¾ sleeve, but we preferred it as a long sleeve.

Marking/Grading – Once the pattern is approved, we send it to the marker/grader to get the pattern ready for production. In this stage, the pattern is digitized and graded. We also create the marker, which tells the cutter how to place the patterns on the cutting table to get the most use out of the fabric.

Cutting Room – Markers arrive to the cutting room, where fabric is laid out on long tables and cut.

Sewing – Once cutting is complete, units are bundled by style and size and sent over to our sew facility. All of our garments are sewn to completion and then bundled again by style/size and sent to our storage facility for sorting.

Sorting – This is where we prepare everything for garment dye. In this stage, we sort out styles/sizes based on orders and create color bundles for each load of color being produced.
Dye House – Our garments are dyed outside of Philadelphia in a facility that uses low impact reactive dyes. This type of dye allows for optimum color absorbency by the fibers we use in our garments. Using this technique safeguards against color on a shirt running in the wash. We also use this technique because our dye facility has a water filtration system that allows them to reuse the same water over and over again, which results in minimal waste.

Finishing – Once the dye process is complete, the garments come back to the factory for finishing. Here, labels, buttons, tacking and hangtags are sewn on. Then, garments are steamed, folded, boxed and ready to ship to customers!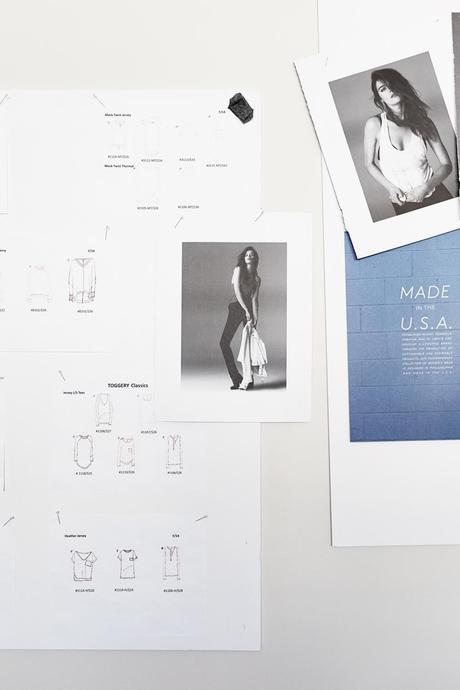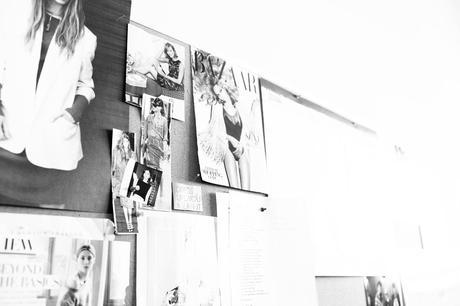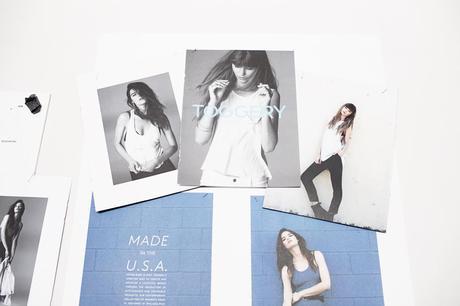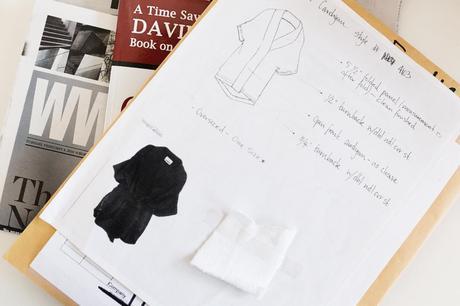 We currently garment dye over piece dye because it allows us to extend our selling window and have more flexibility in our production process. With piece dyed goods, once everything is cut, you can't sell any more than what you have on hand. With garment dye, you can overcut a silhouette by 50 or 100 units and simply allocate them to the right dye lot based on what you've sold between when the garment was cut/sewn and when it goes to the dye house.

We work hard to find fabrics that feel good, wash well and have the drape and the fit that work with our silhouette. Our cotton yarns are sourced from US farms, our fabrics are knit in the Carolinas at several facilities depending on what type of fabric being produced. We choose mills based on their ability and machinery as not all fabrics can be knit with the same machine. We typically stick with light-weight, but not too sheer fabric, so we are usually in the 30 singles realm. The color is always white if it's our classic jersey blend, but some fabrics, like our stripes, have a black rayon/poly thread running through the stripe. The black fibers are used intentionally because they will stay black in the dye process while the remaining shirt will dye accordingly.

In my experience, torquing is the result of low-quality fabric. Bad fabric torques and good fabric doesn't. To avoid torquing when working with a new knitter or fabrication, we chose the best yarns and we test many samples.

Yes, we have had several bad experiences with vendors, but we consider each a learning experience. One example involved a vendor who said they could handle a production run of our size, but simply couldn't. The product ended up being late and the quality was not up to our standard. You can't let experiences like it get to you. You have to get up, dust yourself off and move on (and of course, liquidate what you can't put out under TOGGERY's name to try and salvage some cash!).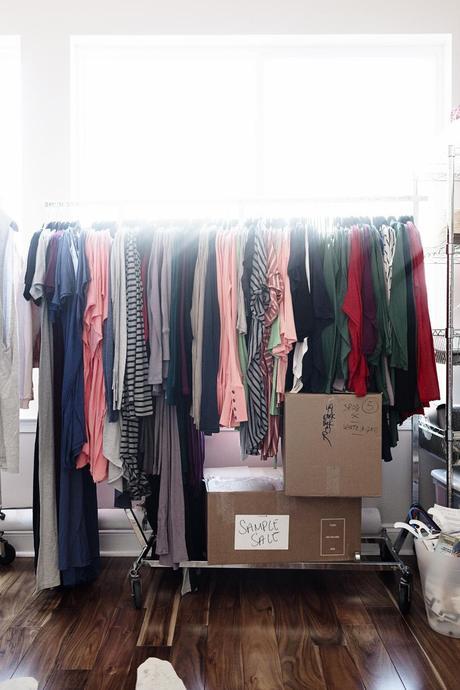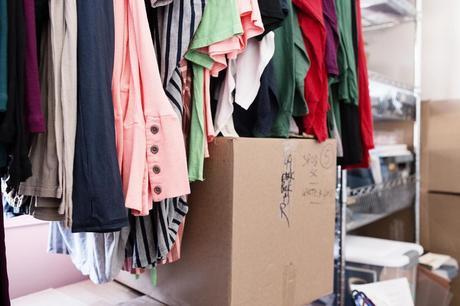 This is something we are asked about often, but producing abroad is not in the best interest of our business model. Our industry is one where we need to get product to the market quickly while maintaining the quality we are known for. Because our production facilities are close (one is a mile away from my home), we can monitor, problem solve and communicate with our vendors fast, and all of this greatly increases our turnaround rate.

This week, we launched our e-commerce site www.toggerbrand.com! Our online presence is important to us; we consider our website our storefront. I'm on it everyday finding ways to improve the look and the function and I constantly post pictures from my life onto the blog. So by having TOGGERY product available online as well as in department and boutique stores, we can bring our quality, precision-cut garments and American-made story to more people. We also love to talk to our customers, so feel free to send us an email with any comments or suggestions about our new site!