0 Flares
0 Flares
×
New to little Indiana? Subscribe for free to my RSS feed. Thanks for stopping by!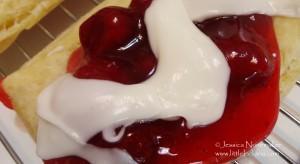 Homemade Toaster Pastry Recipe
This homemade toaster strudel recipe will change your life! Okay, it may not change your life, but it will make you all sorts of happy!
It's flaky. The cream cheese frosting is simple but the perfect touch. The strawberry filling is surprisingly good for canned stuff (c'mon summer!) and I can't wait to switch it out for fresh fresh strawberry pie filling later on.But for now? It's still fast but way more filling! Did I mention there's frosting on it? I found this on the 
Shugary Sweets blog
.
Homemade "Toaster" Strudel Recipe
Print Homemade Strawberry "Toaster" Streudel
Rating: 51
Prep Time: 10 minutes
Cook Time: 12 minutes
Total Time: 22 minutes
Yield: 6 Pastries per One Sheet of Puff Pastry
Serving Size: 2 Pastries
From Shugary Sweets Blog.
I did try to fill the inside of these as well. It takes a bit more time but it does work. After you remove the pastry from the oven after the first bake, while they are still puffy you can quickly jab a fork into one end and spoon in the filling of your choice. Then bake as directed and drizzle with frosting.
I love strawberry filling but you can use your favorite.
Ingredients
I Package Puff Pastry (2 Sheets), Thawed
Topping
1 21-Ounce Can Pie Filling
Frosting
2 Ounces Cream Cheese
2 Cups Powdered Sugar
2 Tablespoons Milk
Instructions
400* oven.
Remove Puff Pastry from package. Using a pizza cutter, slice the sheets in half and then cut each strip into half. You will have six rectangles from one Puff Pastry sheet.
On parchment paper, poke holes in pastry and bake for 9-12 minutes.
Remove from oven, top with your choice pie filling (a couple spoonfuls) and bake for 3 minutes more or until pastry is golden brown.
Drizzle with Frosting.
Serve warm.
Schema/Recipe SEO Data Markup by ZipList Recipe Plugin2.0http://littleindiana.com/2013/03/homemade-toaster-strudel-recipe/Photos are the Property of little Indiana. Do Not Use Without Permission.
pictures in Indiana
little Indiana Tumblr blog
Just don't forget to tell 'em that  little Indiana sent you!
Don't miss a moment. Subscribe to little Indiana and receive instant updates to stay on top of everything "little."
little Indiana: Where to Stay, Play, and Eat in Small Towns in Indiana. Discovering Indiana's best small towns! Now get little Indiana on your Kindle.
Targeted. Relevant. Affordable! little Indiana advertising.