New to little Indiana? Subscribe for free to my RSS feed. Thanks for stopping by!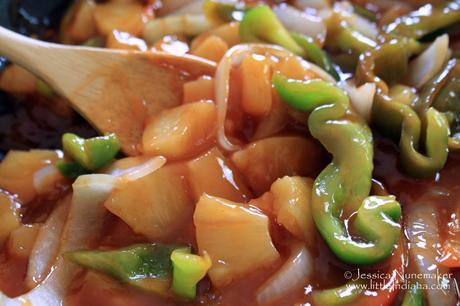 Chinese Sweet and Sour Chicken Recipe
With a lack of Chinese restaurants in many Indiana towns, you might like to know that it's rather easy to make your own Sweet and Sour Chicken!
I've been making this for Sweet and Sour Chicken recipe for years. It's a favorite of our boys and with us! Feel free to substitute pork for the chicken. I don't use fresh ginger, but sub in the powdered stuff–with success.
Oh, and if you have a pair of chopsticks, you can considerably speed up the frying process. For some reason, things run way more smoothly.
Sweet and Sour Chicken Recipe
Print Sweet and Sour Chicken Recipe
Rating: 51
Prep Time: 15 minutes
Cook Time: 15 minutes
Total Time: 30 minutes
Yield: 4 servings
This takes a little practice but once you've made it a time or two, it's not as time consuming as you may think. Although they say it takes 15 minutes prep, it will take you longer the first time, so plan ahead.
It is absolutely delicious! Find it in "Chinese Cooking" by JG Press, 1995. I know a few Indiana town bookstores you could try.
Ingredients
1 Cup Flour
4 Tablespoons Cornstarch
1 1/2 teaspoons Baking Powder
Salt
1 Tablespoon Oil
Water
8 oz Pork Tenderloin (cut into 1/2" cubes) or Chicken (cut into 1/2" cubes)
Sweet and Sour Sauce
2 Tablespoons Cornstarch
1/2 Cup Light Brown Sugar
Salt
1/2 Cup Cider Vinegar (or Rice Vinegar)
1 Clove Garlic, Crushed
1 teaspoon Fresh Grated Ginger (I sub in powdered Ginger)
6 Tablespoons Ketchup
6 Tablespoons Reserved Pineapple Juice
1 Onion, Sliced
1 Green Pepper, Sliced
1 Small Can Pineapple Chunks, Juice Reserved
Instructions
For the Batter:
Combine Flour, Cornstarch, Baking Powder, and Salt.
Make a well in the center. Add enough Water to make a smooth batter. It will be thick! Add enough water so it's not too thick.
Using a wooden spoon, combine ingredients in the well and gradually incorporate the flour from the outside. Beat until smooth.
Heat oil in Wok (we use an everyday pan). Dip Pork or Chicken cubes one at a time into the batter (using chopsticks) and drop into hot oil.
Fry 4-5 pieces at a time and remove with a slotted spoon onto paper towels.
Pour off the majority of the oil. Then add sliced Onion, Peppers, and Pineapple to wok (or pan).
Cook over high heat for 1-2 minutes. Remove and set aside.
For the Sauce:
Mix sauce ingredients together and pour into pan.
Bring slowly to boil, stirring constantly, until mixture is thickened.
Allow to simmer for 1-2 minutes or until clear.
Add the Veggies and Pork/Chicken cubes to sauce and stir to coat.
Reheat for 1-2 minutes.
Serve immediately.
Notes
Delicious! Serve over a bed of rice.
Schema/Recipe SEO Data Markup by ZipList Recipe Plugin2.0
http://littleindiana.com/2012/09/sweet-and-sour-chicken-recipe/
Photos are the Property of little Indiana. Do Not Use Without Permission.
Find pictures in Indiana on my Flickr photostream or on the new little Indiana Tumblr blog.
Just don't forget to tell 'em that  little Indiana sent you!
Don't miss a moment. Subscribe to little Indiana and receive instant updates to stay on top of everything "little."
little Indiana: Where to Stay, Play, and Eat in Small Towns in Indiana. Discovering Indiana's best small towns! Now get little Indiana on your Kindle.
Targeted. Relevant. Affordable! little Indiana advertising.