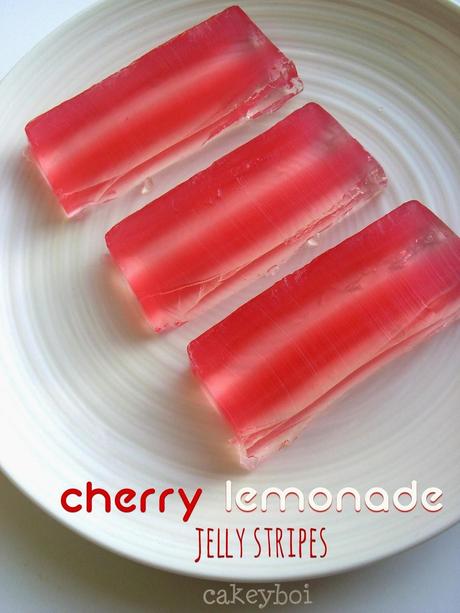 A mouthful of a title, but I had to grab your attention. This recipe is sugar free and virtually calorie free, so is great for those of us on a lighter mission this month.
I'd never made my own jelly before, but when I saw a recipe for a root beer and cream soda terrine in a cook book I was given a few months back, it got my mind to thinking. The original version had sugary root beer made into jelly, layered with a milky cream soda flavoured pudding, sort of like panna cotta. This did sound delicious to me. But I know that root boor can be a bit of a hit or miss with some folk.
I decided to make it with sugar-free cherry and lemon-lime sodas. Cherry Lemonade is a great combination and I thought the colours would work well, as the jelly is striped. You could really try any combination of soda flavours here.
It's layered in a loaf tin and does take a bit of faffing around, checking for each layer to set. But, if like me, you spend a lot of time in the kitchen then this is no bother at all.
I made this with regular gelatine, but perhaps some of my veggie foodie friends could tell me if vege-gel would work well here too?
The measurements below are in cups, which the original recipe had. This is actually easier with cups (which most folk have now in their kitchen drawers), rather than ml's, but for your reference 3 cups is roughly 720 ml and ½ cup is 120 ml.
Yield: As many jelly stripes as you can slice
Ingredients:3 ½ cups sugar-free cherryade (approx. 840 ml)3 ½ cups sugar-free lemon-lime soda (such as Sprite or 7Up)8 teaspoons gelatine (about 2 sachets)Loosely adapted from Bakeless Sweets by Faith Durand
Method:Grease a loaf tin with flavourless oil and wipe up any excess. Pop this into the freezer to chill.
In two large saucepans, separately boil 3 cups of the cherryade and 3 cups of the lemonade. When it reaches boiling point, turn the heat to medium and simmer for a further 20 minutes or until the sodas are reduced by half. Remove them from the heat.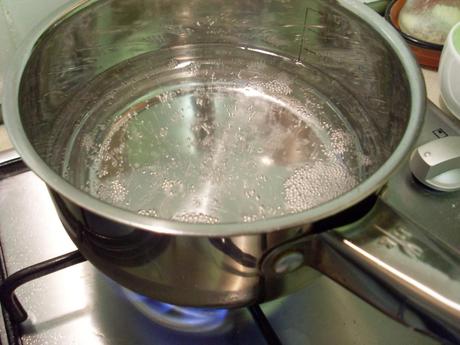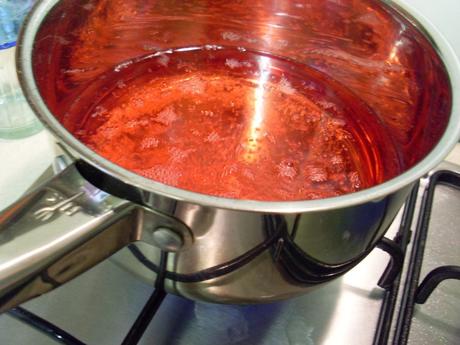 In another 2 smaller saucepans, place the remaining ½ cups of cherryade and lemonade and sprinkle each one with 4 teaspoons of gelatine. Stir and let it sit for 5 minutes to let the gelatine soften then heat each pan gently to dissolve the gelatine. Pour each gelatine mix into the corresponding reduced sodas and stir. Transfer each soda mix to a jug.
Remove the loaf tin from the freezer and pour in half of the cherryade. Place this in the freezer for about 10 minutes, then into the fridge. The original recipe explains that freezing any longer can stop the gelatine from setting.
After 30 minutes remove from the fridge and the jelly should be sticky but firm. Slowly pour on half of the lemonade. Place into the fridge for 30 minutes and then repeat this process again with the remaining cherry and lemonades, so there should be four distinct layers of jelly. (The jelly won't set in the jugs in between pouring each layer).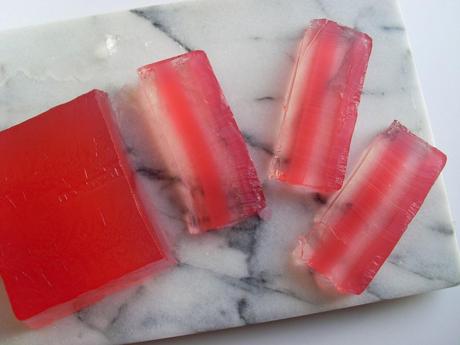 Allow this to set fully for a couple of hours before serving. To unmould, place the tin in some warm water (making sure it doesn't go into the tin). Then invert the jelly on to your serving plate. Slice the 'terrine' into portions and your cherry lemonade jelly stripes are ready to eat – guiltlessly! Enjoy!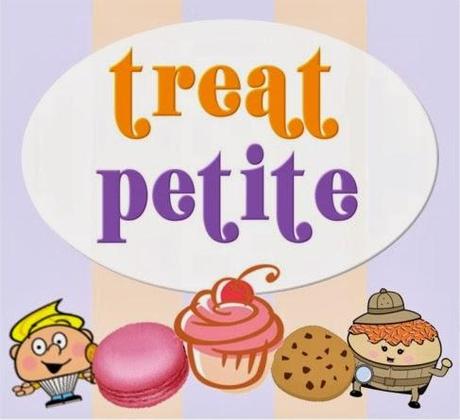 I am entering the jelly stripes into this month's Treat Petite, hosted alternatively by myself and this month Kat over at The Baking Explorer. The theme is free-from and as these have no sugar in them, they fit the bill perfectly!