Think outside the can of Manwich and make these Homemade Sloppy Joes. Not only more delicious but almost as easy too!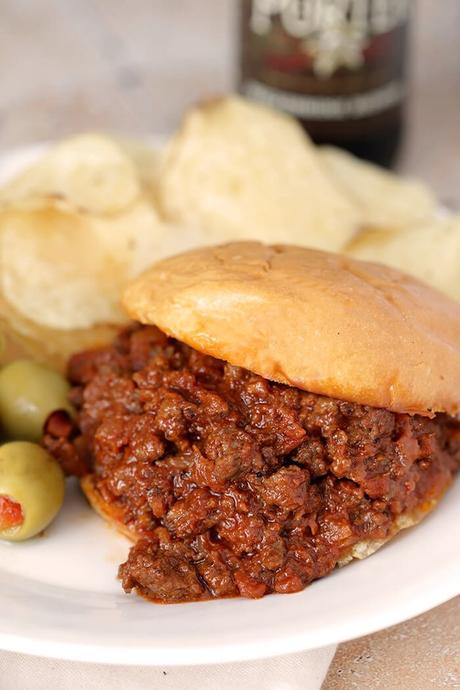 Several weeks ago, a friend of mine who manages a Facebook group that is very food-centric shared an article about Sloppy Joes. Now, this group is more inclined to discuss the history of foie gras or recipes for a dessert that would take hours to prepare so being reminded of something I loved as a kid inspired me to make my own Homemade Sloppy Joes.
It hit me...how on earth that name? Seems it's a simple answer. A guy named Joe who was a cook at a cafe in Sioux City, Iowa added some tomato sauce to a loose meat sandwich (like a burger but the ground beef is loose, not formed into a patty). The folks there loved it and it took off and now is an American classic. Maybe I should share some of my wacko combinations?
Despite Joe's method, I don't think I had ever had or made Sloppy Joes that didn't include using a can of Manwich. Manwich is the name brand of a sauce that is added to sauteed ground beef resulting in what is a familiar taste for many Americans...tomato based, sort of thick and with a slight sweet edge to it. Even a slogan most of us know, 'A sandwich is a sandwich, but a Manwich is a meal.'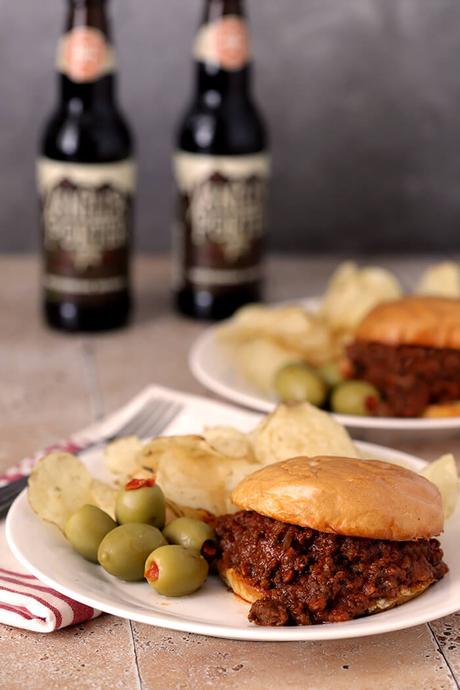 I love being reminded of something I remember favorably from my childhood or young adulthood and I am always inspired to try making the dish using fresh ingredients instead of the ones that were common in households like mine; where my mom was relishing the newfound freedom of 'prepared products.'
That mention of Sloppy Joes rose to the occasion and luckily I had some ground beef on hand and I was on it! I wasn't the first person to go the homemade route and I had the benefit of looking at several other recipes but I also checked out the Manwich can; after all this is what I was re-creating.
To be honest, if someone had shown me these ingredients, I would never have thought to make this sauce at all...would you?
There was: tomato puree (water, tomato paste), high fructose corn syrup, distilled vinegar, corn syrup, less than 2% of: salt, sugar, carrot fiber, dried green and red bell peppers, chili pepper, guar gum, spices, xanthan gum, dried garlic, natural flavors, and citric acid.
The mere fact that two of the first four ingredients were sugar, well, no wonder I had friends who remembered one thing...it was too sweet! But guar gum, xantham gum? Gee mom, I don't remember those two in our pantry! And I love the designation of spices and natural flavors...what the heck are those?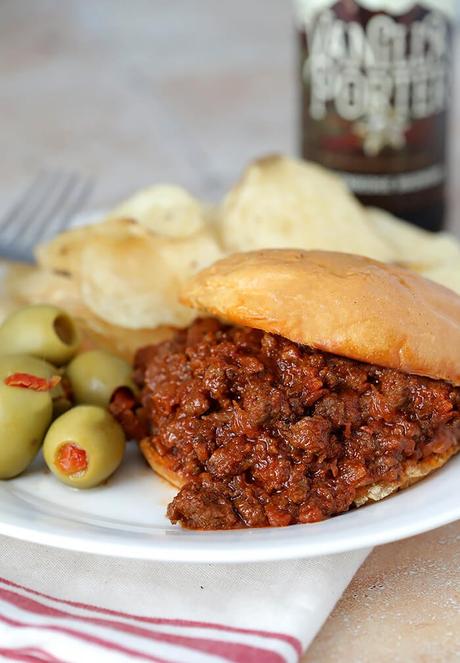 Those ingredients were of no help at all. Who makes a tomato based sauce to be combined with ground beef and totally ignores onion and garlic? There were green bell peppers? My nemesis, clearly not enough to taste or I would have never had one of these sandwiches twice!
So I developed my hint of sweetness with brown sugar and included way more savory, not simply the onions and garlic but included a small amount of serrano pepper instead of green and red bell peppers. I know they are hotter but it's their flavor I was after.
Using a small amount did not make these Homemade Sloppy Joes hot, as a matter of fact I added additional savory ingredients including chili powder, dry mustard, Worcestershire sauce and Chipotle Tabasco Sauce (this is optional but a couple of dashes was good!). I used them all in modest amounts, I wanted flavor, not fire. The end result was as American as apple pie...not even close to a dish from Mexico. Trust me.
One thing of note...I styled this dish on a burger bun that has been toasted (recommended) but I have never in my life eaten one of these sandwiches using my hands. When we were kids, they were served on the two pieces of bun that had been toasted and placed as open faced and cut with a knife and fork.
I even recall that in lieu of having buns, my mom would simply toast some bread. Sure, try it as a sandwich, but make sure you have a bib!
I did love these sandwiches...as testimony I'm making them again for a barbecue at my house this coming weekend. Sometimes it's OK to have a dish already made at a barbecue and not stand and grill when you want to sit and chat! Serve them with chips, coleslaw, or pickles and yes, olives if you're like me and love the green ones!
Leftovers? I've served the leftover meat sauce on Spaghetti and instead of Pigs in a Blanket, I've made Manwich in a Blanket using Crescent Rolls and a slice of thin cheddar cheese. Both yummy.
More Updated Recipes From Years Gone By!
PIN IT! 'Homemade Sloppy Joes'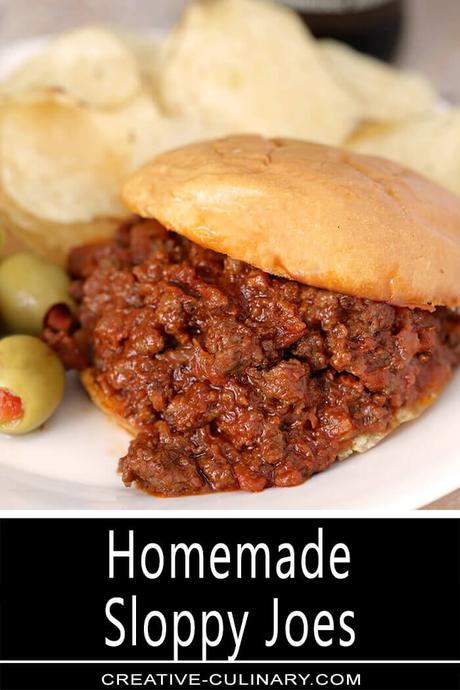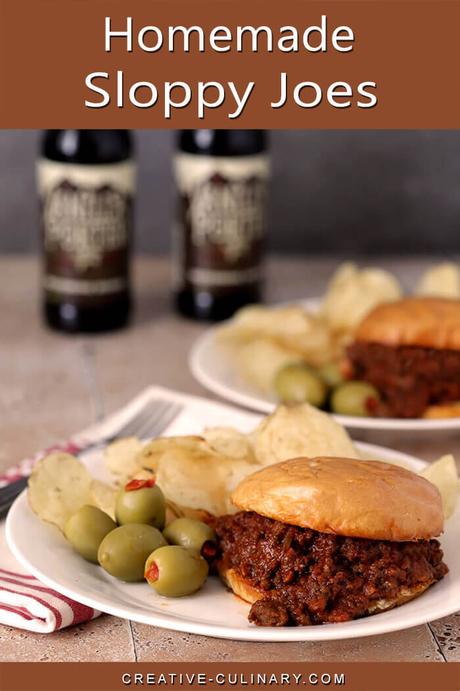 Homemade Sloppy Joes