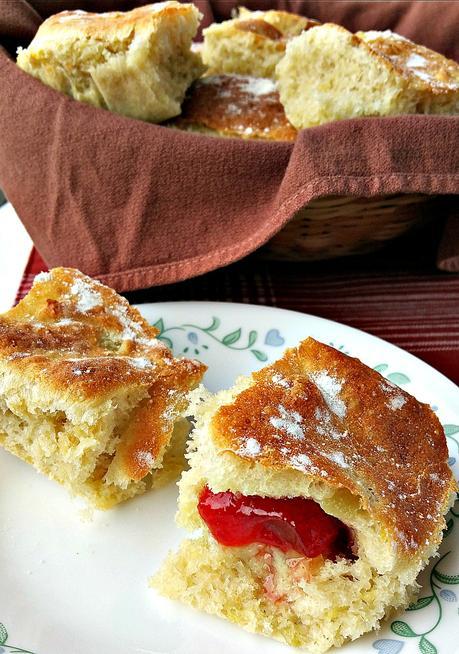 Homemade Potato Rolls
I have had SO many comments on my Vegan Biscuits and my Pull-Apart Rolls that I thought I'd add another option today.
Homemade Potato Rolls
And I'm SO glad I did!
Unsweetened Almond Milk, Mashed Potatoes, Bread Flour, Yeast, and Salt make up the majority of the ingredients.  And the best part?
No artificial favorings
No preservatives
No sawdust or any other weird ingredients
Just real homemade goodness, exactly like grandma used to make.
I think that's why I like baking so much….
It really doesn't take a lot of ingredients to make a simple Bread Dough – just time and patience, and YOU get to control what goes into it.
These Homemade Potato Rolls are so fresh and tasty, even my picky 3yr old grandson was asking for more.
Got an afternoon you can just set aside to baking?  Try these rolls….you won't be sorry.
Making Homemade Potato Rolls
Here's a trick I learned a long time ago to get your wet ingredients the perfect temperature for yeast proofing.
Microwave your cup of milk (or water for pizza dough) for EXACTLY 50 seconds.
If you stick your finger in it afterwards (clean finger I hope) it should be warm to the touch, but not enough to burn you.
Perfect temp for allowing the little yeasties to do their magic.
Add your heated milk, sugar, and 1/2 cup of mashed potatoes to a large mixing bowl and stir thoroughly.  Now add your yeast, give it a quick whisk, and wait 10 minutes.
You should see bubbles form as the yeast starts to bloom.
Note:  1 large potato is about ½cup of mashed.  Just make sure there's no lumps or you'll have chunky rolls.
After 10 minutes, stir in the salt, baking powder, and baking soda.
Slowly add 1 cup of Bread Flour and mix thoroughly.  If using a Stand Mixer – use the paddle attachment.  You want ALL the dry ingredients to become moistened.  The dough will be very wet.
Now add in another cup of flour – and if using a stand mixer switch to the dough hook attachment.  Work the dough until it just forms a ball and pulls away from the sides.
The First Rise
Cover your bowl with plastic wrap AND a clean kitchen towel and set it in a warm place for 1 hour to rise.
Here's another trick I learned for finding the perfect place for dough to rise.  Use your oven.
Simply preheat your oven –  any temp – doesn't matter –  for EXACTLY 1 minute and then turn it off.
That little bit of heat is perfect for achieving a good rise but DON'T FORGET TO TURN OFF THE OVEN.
After 1 hour, sprinkle your remaining ¼ cup of flour on a clean work surface and scrape out your dough onto that surface.
Slowly knead the remaining flour into your dough and separate into 16 equal sized balls.
I used a Pyrex 9×9 Baking Dish and lined it with Parchment Paper.  Arrange your Dough Balls in the dish and cover it again with plastic wrap and a clean kitchen towel.
The Second Rise
We're going to let it rise again, this time on TOP of the stove, for another hour.  As you can see the dough will poof up even more.
All that's left to do now is bake these babies in a 400° F Oven for about 15-20 minutes.
After that – you're on your own…. although I highly recommend a spoonful of homemade strawberry jam….yum.  
Enjoy!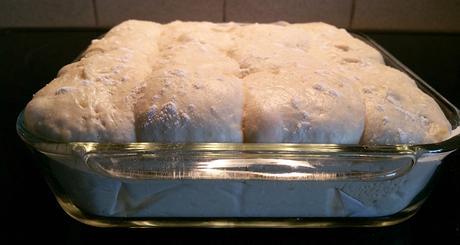 Save
Print
Homemade Potato Rolls
Prep time:  135 mins
Cook time:  20 mins
Total time:  2 hours 35 mins
Serves: 16 Rolls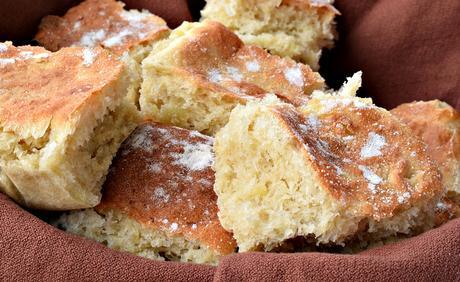 Homemade Potato Rolls fresh from the oven. No artificial ingredients, no preservatives, just homemade goodness, exactly like grandma used to make. Ingredients
½ cup Mashed Potatoes
1 cup Almond Milk, unsweetened
1 Tbls Sugar
2¼ tsp Active Dry Yeast
2¼ cups Bread Flour
1 tsp salt
¼ tsp Baking Soda
¼ tsp Baking Powder
Instructions
Stir warm milk, mashed potatoes, and sugar in a mixing bowl until well combined.
Mixture should be warm to touch, but not enough to burn you.
Add yeast and stir to incorporate.
Let rest for 10 minutes for yeast to bloom.
Add salt, baking soda, and baking powder and stir.
Add 1 cup of flour and mix until well moistened. If using stand mixer use the paddle attachment.
Add a 2nd cup of flour and mix until dough ball forms. If using stand mixer use the hook attachment.
Seal and cover with a towel and place somewhere warm to rise.
Place remaining ¼ cup flour on work surface.
After 1 hour scrape your dough onto the floured work surface and knead gently.
Separate into 16 equal dough balls and place into a 9x9 Pyrex Dish lined with parchment paper.
Re-seal and cover and let rise on top of stove for an additional 1 hour.
Remove plastic wrap and towel and bake in 400 degree F oven for 17-20 minutes.
3.5.3208