New to little Indiana? Subscribe for free to my RSS feed. Thanks for stopping by!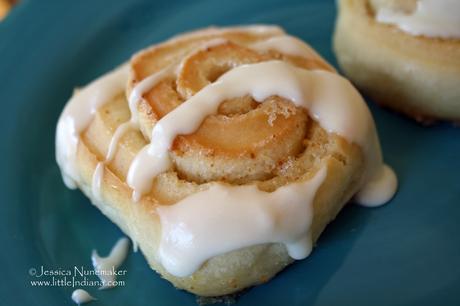 Homemade Orange Rolls Recipe
This recipe for homemade Orange Rolls is so good–we ate almost a whole pan of them ourselves!
It's a good thing this Orange Rolls recipe makes two 11 x 7 pans worth (I used two 13 x 9 pans) of this sweet and delicious citrusy treat! We were able to give away a few to the neighbors too.
While the original recipe is for a bread machine, it's just as easy to whip up using your stand mixer. I admit I skipped the second rising time on accident–but still with great results! Only slightly adapted from a 1994 Taste of Home magazine recipe clipping.
Homemade Orange Rolls Recipe
Print Homemade Orange Rolls Recipe
Rating: 51
Prep Time: 20 minutes
Cook Time: 20 minutes
Total Time: 1 hour, 40 minutes
Yield: 2 1/2 Dozen Orange Rolls
Serving Size: 2 Rolls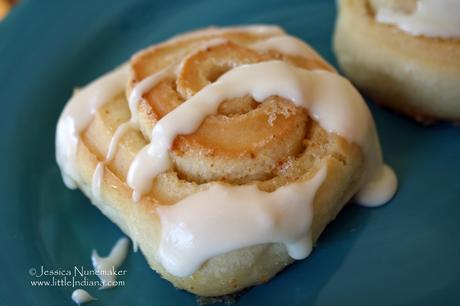 Delicious! I used a 13 x 9 inch pan instead of the 11 x 7 pan called for here.
Ingredients
Dough Ingredients:
2 1/4 teaspoons Active Dry Yeast
1/4 Cup Warm Water (110° to 115°)
1 Cup Warm Milk (110° to 115°)
1/4 Cup Shortening
1/4 Cup Sugar
1 teaspoon Salt
1 Egg
3-1/2 to 3-3/4 Cups Flour
FILLING:
1 Cup Sugar
1/2 Cup Butter, Softened
2 Tablespoons Grated Orange Peel
GLAZE:
1 Cup Powdered Sugar
4 teaspoons Butter, Softened
1/2 teaspoon Lemon Extract
4 to 5 teaspoons Orange Juice (I used considerably more to achieve the desired consistency)
Instructions
Combine Yeast and Water. Let rest for five minutes.
Add in Milk, Shortening, Sugar, Salt, the Egg, and 3 Cups of Flour.
Combine. Stir in enough remaining Flour until it forms a soft dough.
Using the dough hook on my mix master, I let that do the kneading. 6-8 minutes by hand, I did 4-5 minutes via machine.
Cover and let rise for one hour.
Meanwhile, combine ingredients for Filling. Set aside.
After dough has doubled in size, punch it down and divide it in half.
Roll each half into a 15 x 10 rectangle.
Spread half the Filling on each side.
Roll up by starting on the longest portion. Meanwhile, in a small bowl, combine filling ingredients; set aside.
Cut into 15 rolls.
Place rolls into two greased 11 x 7 baking pans. I used 13 x 9 with success. Cover and let rise again for 45 minutes.
Bake 375* for 20-25 minutes or until very lightly browned.
Combine Glaze ingredients using enough Orange Juice to achieve a drizzling consistency.
Spread over warm, but not hot, rolls.
Notes
Clipped from a 1994 Taste of Home magazine. (slightly adapted)
Schema/Recipe SEO Data Markup by ZipList Recipe Plugin2.0http://littleindiana.com/2012/08/homemade-orange-rolls-recipe/Photos are the Property of little Indiana. Do Not Use Without Permission.
Find pictures in Indiana on my Flickr photostream or on the new little Indiana Tumblr blog.
Just don't forget to tell 'em that  little Indiana sent you!
Don't miss a moment. Subscribe to little Indiana and receive instant updates to stay on top of everything "little."
little Indiana: Where to Stay, Play, and Eat in Small Towns in Indiana. Discovering Indiana's best small towns! Now get little Indiana on your Kindle.
Targeted. Relevant. Affordable! little Indiana advertising.