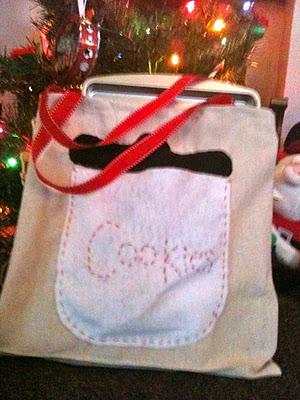 Every year I make the kids, mine and the cousins, a homemade Christmas present.  You can give them so many toys but something homemade really comes from the heart.  So this year's present started a few months back with one of Cy's book orders from school.  I got each of the boys a Pirate Gingerbread book and my niece The Gingerbread Girl book. 
I knew I wanted the present to be something along the line of cookie making, but honestly didn't think this was going to be their homemade gift.  I was leaning towards mixing bowl, cookie mix and oven mitts, something that would be a fun project for them to use.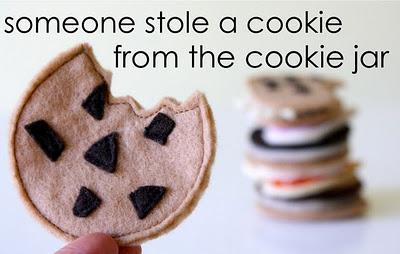 But that changed when I saw this post from Dana on her Made blog.  She has a great, well followed blog filled with original, fun ideas and patterns not to mention awesome photo shoots of projects and her kids.  This post was the Cookie Jar post, a tote bag with a vinyl "cookie jar" on the outside for an assortment of homemade felt cookies.  At first sight I knew my kids would LOVE to play with those cookies.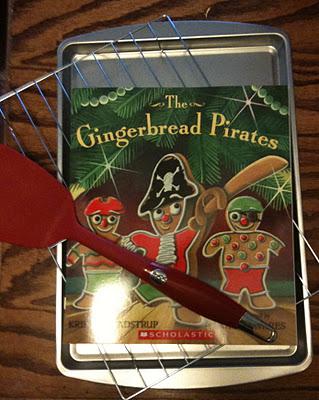 So this year's homemade kid's present was born: Felt Cookie Playset.  Each set of kids gets a canvas bag with a felt "cookie jar" on the outside holding felt cookies, inside is their book, a cookie pan and cooling rack with a spatula.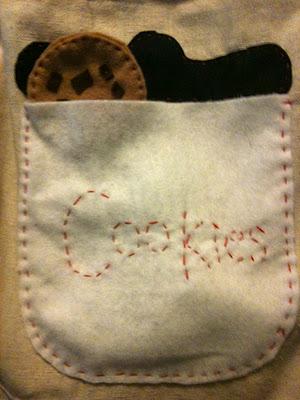 I made the canvas bags with canvas material I had from a throw tarp (get and a lot cheaper when stretching your own painting canvases), I didn't really measure it just made sure the pans would fit inside.  The straps are red ribbon to match the stitching on the "cookie jar" and to be a little festive.  After the bag was sewn I hand stitched the "cookie jar" white felt and the black felt lid on, leaving the mouth open to put the cookie in.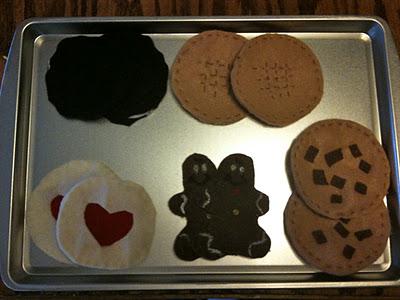 The felt cookies were the fun part to make, thinking up all sorts of favorites and how to make them.  We definitely needed a gingerbread man to go with their books, classic chocolate chip, peanut butter, heart sandwich- jam cookies, chocolate "oreos".  I stopped there because I needed to make 6 of each kind so each set could have 2 of each cookie.  (My kids have already lost their chocolate chips and a jam cookie so I think my job will never be done)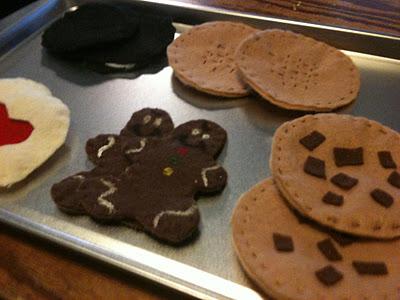 The cookie pan, cooling rack and spatula were Dollar Tree finds.  They have a great assortment of kids baking items in the kitchen section- and you can never go wrong for $1.  
 There you go this year's DIY kid's present.  Cookie time!

Subscribe in a reader