New to little Indiana? Subscribe for free to my RSS feed. Thanks for stopping by!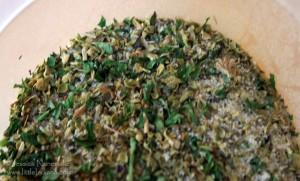 Homemade Italian Seasoning Recipe
recipes
While this recipe calls for two tablespoons of salt, I don't tend to use the whole thing. Play around with it and see what works for you.
I used two tablespoons of the mix in my Slow Cooker Italian Chicken and Rice recipe. It was wonderful!
Homemade Italian Seasoning Recipe
Print Homemade Taco Seasoning Recipe
Consider this as your base. Feel free to tweak ingredients to suit your tastes. I did not use garlic salt but only garlic powder and used slightly less to account for the absence of salt.
I have not used this as a dressing--I've only used it as a homemade substitute in my Slow Cooker Italian Chicken Recipe: http://littleindiana.com/2012/02/slow-cooker-chicken-rice-recipe/.
From Allrecipes.com
Ingredients
1 Tablespoon Garlic Salt
1 Tablespoon Onion Powder
1 Tablespoon Granualted Sugar
2 Tablespoons Dried Oregano
1 teaspoon Ground Black Pepper
1/4 teaspoon Dried Thyme
1 teaspoon Dried Basil
1 Tablespoon dried parsley
1/4 teaspoon Celery Salt ( used Celery Seed)
2 Tablespoons Salt
Instructions
Combine ingredients in airtight container.
For Dressing Mix: Combine 1/4 Cup Balsamic Vinegar, 2/3 Cup Canola Oil, 2 Tablespoons Water, and 2 Tablespoons of the Mix.
Schema/Recipe SEO Data Markup by ZipList Recipe Plugin2.0http://littleindiana.com/2012/03/homemade-italian-seasoning-recipe/Photos are the Property of little Indiana. Do Not Use Without Permission.
little Indiana: Where to Stay, Play, and Eat in Small Towns in Indiana. Discovering Indiana's best small towns! Now get little Indiana on your Kindle.
Targeted. Relevant. Affordable! little Indiana Advertising