0 Flares
0 Flares
×
New to little Indiana? Subscribe for free to my RSS feed. Thanks for stopping by!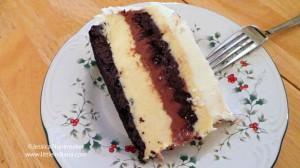 Homemade Ice Cream Cake Recipe
Every May I make some sort of new cake recipe for my husband's birthday and this year–he requested an ice cream cake!
Having never made an ice cream cake recipe before, I wasn't sure what to expect. Would it be difficult? Time consuming? Even though you have to wait between steps, it was rather fast to fix and really kind of fun!
I did make a homemade chocolate sauce recipe in exchange for the suggested hard chocolate shell ice cream topping recipe. I wanted to be able to slice into it! I also added a chocolate sandwich cookie crust. I found this recipe on FoodNetwork.com.
Homemade Ice Cream Cake Recipe
Print Homemade Ice Cream Cake Recipe
Rating: 51
Prep Time: 6 hours, 50 minutes
Total Time: 6 hours, 50 minutes
Yield: 10-12
Serving Size: 1 Slice
Adapted slightly from The Food Network Ice Cream Crunch Cake Recipe.
I added a Chocolate Sandwich Cookie Crust and Homemade Chocolate Sauce: http://littleindiana.com/2013/06/chocolate-sauce-for-ice-cream-topping/. Mmm! Complete the recipe in order. After frosting, you will freeze the cake one last time before serving.
If the ice cream starts melting, return to freezer and then try again. Do not use melted ice cream in this ice cream cake recipe or you will end up with ice crystals in your cake!
The original recipe stated to freeze the cake for two hours before frosting. In my case, it was more like three so I changed the time on this recipe to give folks plenty of time.
Ingredients
Crust
24 Chocolate Sandwich Cookies, Crushed
1/4 Cup Butter, Melted
Ice Cream Cake
2 1 1/2 Quart Containers Vanilla Ice Cream
7 to 8 Ounces Homemade Chocolate Sauce (recipe link below) or Jarred Chocolate Sauce
Remaining Chocolate Sandwich Cookies (to taste)
1 1 1/2 Quart Container Chocolate Ice Cream
5 Cups Whipped Cream
Sprinkles (Optional)
Instructions
For Crust
Make Chocolate Sandwich Cookie Crust. Combine crushed Cookies and Melted Butter. Press into bottom and up sides of Springform pan.
For Ice Cream Cake
Chill 9" Springform pan in freezer for 15 minutes. Meanwhile, soften 1 container Vanilla Ice Cream.
Remove pan. Spread chilled crust with 1/2" thick layer of softened (NOT melted!) Vanilla Ice Cream. Freeze until firm (45 minutes).
In a food processor, smash up remaining Cookies. Add Chocolate Sauce and pulse a few times until crumbs and sauce are combined and crumbs are moist. Set aside.
Let Chocolate Ice Cream soften for 15 minutes.
Spread over the Vanilla layer. Firmly pack ice cream into pan. Spread Chocolate Crumb/Sauce mixture over ice cream.
Freeze for 1 hour.
Soften Vanilla ice Cream for 15 minutes.
Spread over Sauce/Crumb layer. Pack tightly and smooth the top.
Freeze until firm for three hours.
To remove from pan, wipe outside of pan with a HOT cloth and run a HOT knife around on the inside. Unlatch and remove the side. If cake is not firm, refreeze for 20 minutes and try again.
For Frosting
Spread 3 Cups of Whipped Cream over the top and sides of the cake. Freeze until set for 20 minutes.
Use remaining 2 Cups of Whipped Cream to pipe decorations on cake. Top with sprinkles if desired and then freeze.
Serve
Remove 15 minutes before serving and slice with a hot knife.
Schema/Recipe SEO Data Markup by ZipList Recipe Plugin2.0http://littleindiana.com/2013/06/homemade-ice-cream-cake-recipe/Photos are the Property of little Indiana. Do Not Use Without Permission.
Find pictures in Indiana on my Flickr photostream or on the new little Indiana Tumblr blog.
Just don't forget to tell 'em that  little Indiana sent you!
Don't miss a moment. Subscribe to little Indiana and receive instant updates to stay on top of everything "little."
little Indiana: Where to Stay, Play, and Eat in Small Towns in Indiana. Discovering Indiana's best small towns! Now get little Indiana on your Kindle.
Targeted. Relevant. Affordable! little Indiana advertising.