New to little Indiana? Subscribe for free to my RSS feed. Thanks for stopping by!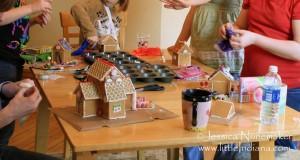 Homemade Graham Cracker House
I thought I would take the time to share with you one of my favorite Christmas traditions (other than the Christmas Eve Candlelight Service).
Every year for the past 4 years in our Indiana town, our three neighbor girls come over (even now, and they've moved away!) to decorate graham cracker houses. Our first year we used a gingerbread house kit and each kid took a side of the house (and yard) to decorate (Kid #2 was only a baby).
Each year it has morphed and changed to become what it is today. We ditched the kit for a more hands-on approach. My husband spends a bit of time designing and putting together simple graham cracker houses complete with plenty of yard space!
Make Your Own Graham Cracker House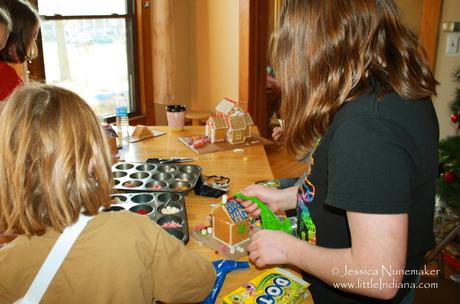 Homemade Graham Cracker House
We raid the leftover Halloween candy. We make good use of stale marshmallows and pretzels and purchase anything else we may need. Then? I break out the muffin tins and we put each decorative element into its own cup.
It makes it easy for the kids to see what we've got at a glance–and we can easily see if we need to do any refills.
It's so much fun! We play Christmas music and chatter and just have a super good time.
Afterward, I like to break out the sugar cookies and let everyone decorate…and bring some home with them, too.
Graham Cracker House Glue or Royal Icing
Not any icing will do–and this recipe for Royal Icing, otherwise known as graham cracker house glue, is tough! It dries quickly and makes a ton–so your house and yard can be decorated.
I tint a few bags of icing in whatever colors received the most votes. I pick out a few fun tips from my grandfather's decorator tips (he was a baker) and let the kids go to town! The table ends up coated in colors. Sprinkles fly everywhere. I think even the cat ends up tinted by the end of it.
But it's so much fun and a highly anticipated holiday tradition–for all of us!
Here's the recipe we used last year. We have tried something different every year but this one is a keeper! Source unknown (but it's a basic recipe so it's everywhere, I'm sure).
Print A Very Hoosier Holiday: Graham Cracker House Glue or Royal Icing Recipe
Rating: 51
Prep Time: 10 minutes
Total Time: 9 minutes
Yield: 3 Cups Graham Cracker House Glue
Ingredients
3 Egg Whites
1 1/2 teaspoons Cream of Tartar
16 oz. package Powdered Sugar
Instructions
In mixer bowl, beat together Egg Whites and Cream or Tartar on high.
Slowly add in the Powdered Sugar. Keep beating until mixture is nice and smooth. This should take less than ten minutes but more than five.
Keep in covered container in the fridge when not in use. Keeps about a week.
Schema/Recipe SEO Data Markup by ZipList Recipe Plugin2.0http://littleindiana.com/2012/12/homemade-graham-cracker-houses-and-glue-recipe/Photos are the Property of little Indiana. Do Not Use Without Permission.
Find pictures in Indiana on my Flickr photostream or on the new little Indiana Tumblr blog.
Just don't forget to tell 'em that  little Indiana sent you!
Don't miss a moment. Subscribe to little Indiana and receive instant updates to stay on top of everything "little."
little Indiana: Where to Stay, Play, and Eat in Small Towns in Indiana. Discovering Indiana's best small towns! Now get little Indiana on your Kindle.
Targeted. Relevant. Affordable! little Indiana advertising.