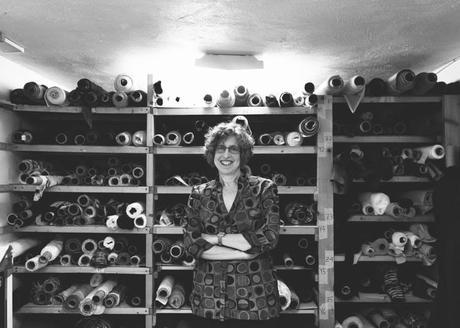 I believe that life experiences combine to create a set of skills that shape you into the person you're meant to be. In my own life, I have a combination of photography, writing and sewing abilities that molded Madalynne into its current state. In Linda's case, owning a children's clothing line and being a musician made her a fruitful business owner. I first placed an order from her company, Emma One Sock, over the holidays. Ava Geraldine is a wool knit that came from their stock. When I clicked to follow EOS on Facebook, I discovered that their home base was near me – less than an hour away. We finally met on the last day of February, and during our two-hour talk, it was clear that Linda was the type who deeply cared about her business, even after 20 years. She has a passion.

I grew up in the Philadelphia suburbs, and I was always interested in art, music and dance. I was an anomaly in my family, but my next door neighbors were a family of artists, musicians, poets, thinkers, and I probably spent most of my early childhood in their house. They were a big influence on me. I taught myself to play the piano at their house because we didn't have one until I was 9 or 10-years-old. It was the most exciting day of my life when my parents purchased a baby grand piano to decorate our living room. To them, it was a piece of furniture, but to me, it was a turning point in my life. The piano became my instrument, and I went on to to get a BA and an MA in Music/Piano Performance. During and after college, I taught piano, ear-training and music theory, and did a lot of studio accompanying for voice teachers, etc. Basically, I cobbled together a living as a classical musician. All along, I always made things. I am a self-taught knitter and crocheter. I did a little bit of sewing, a lot of drawing, some painting, macramé, weaving, etc.
After 10 years of making a very modest living as a musician, I took a break from the music world. It was during that time I met my husband, Eric, and started a new life and a family. When our kids were young, I knitted sweaters and made clothes for them. People liked them, so I started a business making handmade children's clothing that I sold at local craft shows. If memory serves, it was my niece who actually came up with the name Emma One Sock. It is named after our daughter Emma, and our son Aaron, who as a baby, was always pulling off one sock (both are in their 20's now). The business grew, and being totally self-taught, I started to think that although I had a lot of design ideas, professionals could do a better job. So I found a wonderful patternmaker that graded all by hand, the old-fashioned way! I also found a machine knitter who had a farm in West Virginia, and cutting/sewing contractors in the Philly area. I had sales reps all over the country, selling to little upscale children's boutiques, and the business kept growing until our house was more of a warehouse storing hundreds of coats, sweaters, dresses, outfits, etc. In the beginning, I just made clothes for infants and toddlers, but eventually went all the way through pre-teen sizes. I designed two collections each year, and it became a TON of work. I had a designer friend who was a huge help in finding fabric and contracting resources, and for 6 years, I ran the business out of our house while Eric was working as a software developer for various start-up companies. Emma One Sock was profitable for the sales reps, and for the children's clothing stores, but for me, it was an enormous amount of work, very expensive to produce, and it took over our house. After 6 years, I decided I'd had enough and just stopped.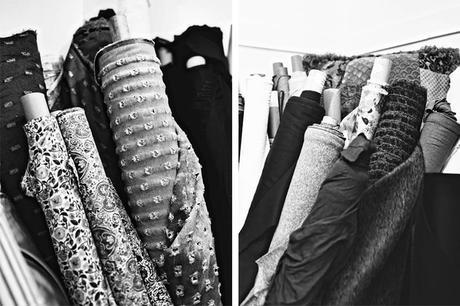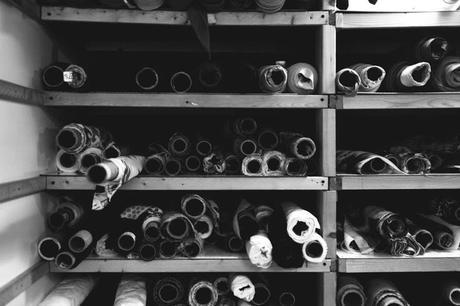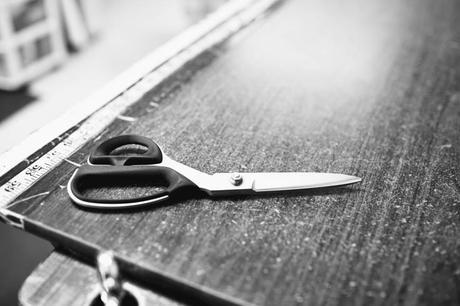 Every small-scale designer knows how difficult it is to find fabric resources. Often, you have to buy a lot more than you need to meet the minimum fabric quantity for an order or run the risk of making samples out of a fabric that is no longer available when it's time to fill orders. So when I closed Emma One Sock in 2000, I had a ton of expensive European fabric left over. I began selling it on eBay, and found that there was a very good market for these better fabrics that were not available in local fabric stores. Eventually, I began buying more fabric just to sell. I had all the fabric suppliers in place already so it was easy. Suddenly, Emma One Sock was an online fabric store! I kept the name as it has a lot of sentimental meaning.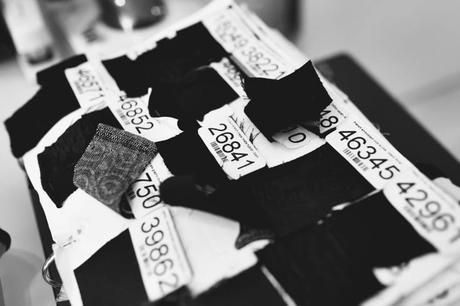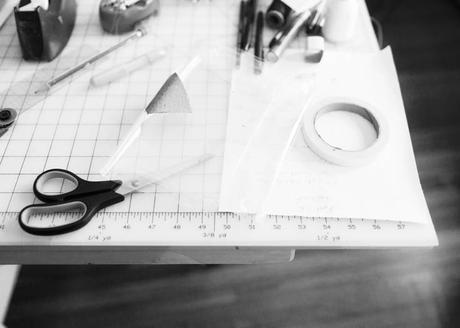 Although I am self-taught, I have learned a lot from others. Kathryn Brenne, who writes tutorials for our website, is a fountain of knowledge, creativity and skill. I've learned so much from her. I also learned quite a lot from Shannon Gifford, a sewing educator who wrote Sewing Guides for Emma One Sock until about 2009 (she passed away in 2010).
I sign up for a sewing retreat a few years ago with Susan Khalje and Kenneth King and it was a fantastic and inspiring experience! It got me sewing again when I hadn't been. After that, I took a few private lessons with Kenneth in NYC, which was a lot of fun, and that further propelled me. But I do have a "lone wolf" personality and the attitude that I would rather figure it out myself.
As far as running a business, my father was a businessman, so I think it's in my DNA to be entrepreneurial. As far as running a successful business, Eric has been key – he built EOS into a smooth-running, successful business, has extremely good instincts and tons of experience. He also has developed a management system that is so custom-tailored, and he just keeps tweaking it every day. Just when I think he can't possibly come up with something to make things even better, he does!

The hardest thing I learned about owning a business is that to be really successful, I had to give up some control. I have a very particular vision of how I want EOS to operate and how I want to take care of my customers. It took a lot of convincing for me to hire people and train them to take over some of my tasks. Eric was instrumental in this.

All together, there are six of us – Eric and me, and then four employees.
We have a fabulous staff and we feel very lucky to have found such intelligent, talented, competent people.  Working in a small studio filled to the brim with fabric, cutting tables, outgoing shipments, etc. it's important that we get along, and we do! We try to celebrate everyone's birthday, and I've been known to cook lunch for the staff on occasion (I do love to cook). Because we value them so much and want them to stick around, we pay our employees very well. We provide health care benefits and even profit sharing.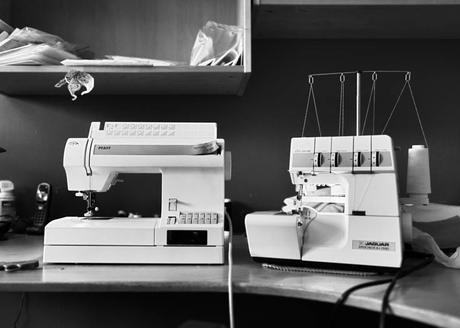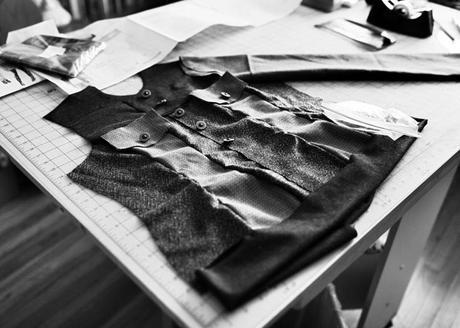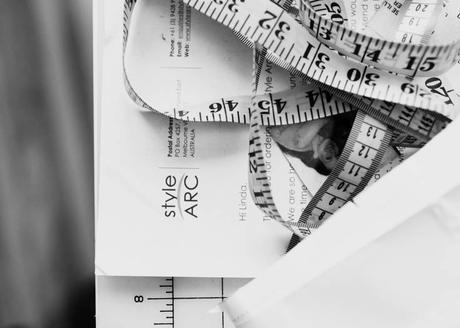 I think that my talents combined with Eric's have synergized to create a unique business. I think that we have a lucky combination of skills and talents that we were either born with or have developed over our lifetimes. We've each done a lot of things, and been involved in a lot of different entrepreneurial endeavors.

I've been in this business for a long time and have developed close relationships with many of my suppliers.  The fabric business has taken many twists and turns over the years, and the internet has changed all the rules, but still, I've managed to ride these waves of change in the market successfully and hope to continue to find great fabrics for my customers. I have suppliers all over the country and I import from other countries, and I get tons of samples every week to pick from.  (We donate the old samples to your alma mater, Madalynne!) I do go to New York quite frequently as well, as there's no substitute for scouring for gems in the Fabric District.

Yes, I sew as much as I can! I make most of my clothes these days, and I have an old Pfaff that I would like to replace. I have a Juki serger as well. They are both over 20 years old and still cranking away!

I really want to learn pattern making. And I would like to be able to knock out a lined coat or a jacket with lots of detail without having to reference instructions. I also would love to perfect a basic pants pattern for myself! My body doesn't seem to want to cooperate. That's the holy grail for me and is still eluding me.