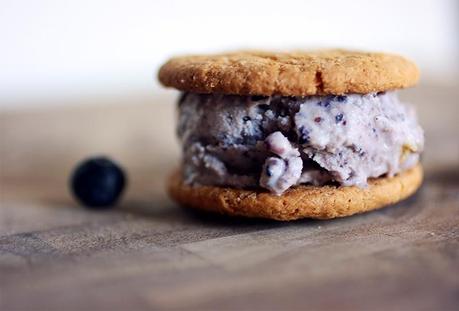 Every time we go back to Boston, we hit up Cabots, a family-run old-fashioned ice cream parlour. They have this giant frozen yogurt drill they use to hand-crank the ice cream base with your topping to create your flavor. I always get the same thing: blueberry frozen yogurt with graham crackers or ginger snaps crushed in, and with a side of bittersweet hot fudge.
Over the weekend, I inadvertently created my Cabot's fave. I made blueberry ice cream, and decided to crush in lemon snaps. I wasn't even thinking of Cabot's when I did this, but I'm happy it turned out really well. The best thing about this recipe is that the base takes 5 minutes to make. There's no cooking involved. And no egg yolks. But it still tastes as creamy and full as custard-style ice cream. What's the secret ingredient? Condensed milk!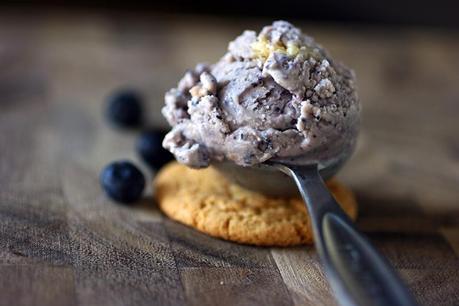 Since we had more lemon snaps at home, I made these into little ice cream sandwiches. Yum!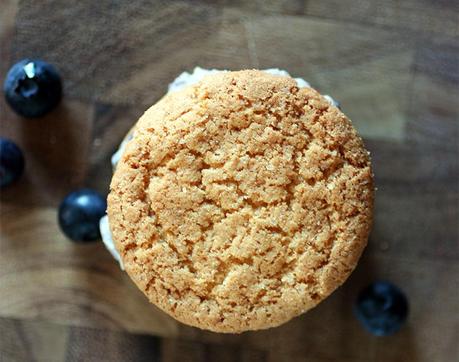 Easy Blueberry Ice Cream sandwiches
based off this recipe for the ice cream
makes 12-14 ice cream sandwiches
Ingredients:
1 cup blueberries
1 cup half-and-half
1/2 can of sweetened condensed milk (I used half a 14 oz can)
1/2 cup heavy cream
1/2 teaspoon vanilla extract
1 bag lemon snaps (or ginger snaps)
Steps:
1. Wash and dry the blueberries. Run them through a blender or food processor until they are mashed together. You can also mash them by hand with a fork. Set the blueberry pureé aside.
2. In a large bowl, combine the half-and-half, condensed milk, cream and vanilla. Mix well.
3. In a small bowl, crush 8-10 lemon snaps into small pieces. Set aside.
4. Pour the milk mixture into your ice cream maker. Once the mixture is frozen to the texture/thickness of soft-serve ice cream, add the lemon snap bits. Then add the blueberry puree and allow it all to mix together. Dish out the ice cream into a container and freeze overnight. (This will take longer to freeze than custard-based ice cream).
5. Assemble the sandwiches: Using a tablespoon as an ice cream scoop, place a scoop of ice cream on one side of one cookie, then lay the other cookie on top. Smoosh the sandwich together. The sandwiches turn out best if the ball of ice cream is perfectly round before you smoosh it down. It helps to dip your spoon in water before scooping, to prevent the ice cream from sticking to the spoon.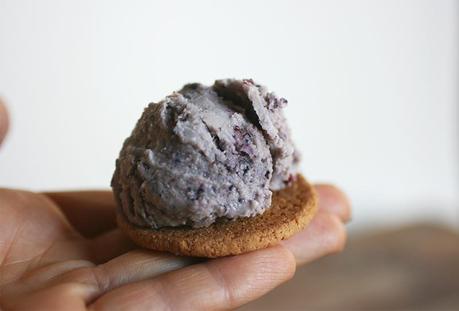 6. After you assemble each sandwich, wrap it tightly in plastic wrap. Place it in the freezer until you're ready to eat it. Enjoy!