0 Flares
0 Flares
×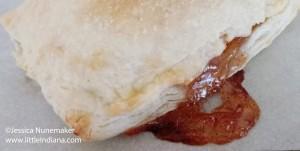 Homemade Apple Turnovers Recipe
With so many fabulous Indiana apples waiting to be used, I had to try this Homemade Apple Turnovers Recipe!
My neighbor gifted me with a very large bag of apples. Fortunately, I gave this yummy apple dessert recipe a try! My husband and our boys absolutely love it.
The crust is a fair bit of work, basically because you have to stop and chill it each time, but it does result in a lovely Autumn dessert!
Homemade Apple Turnovers Recipe
Print Homemade Apple Turnovers Recipe
Rating: 51
Yield: 4 Apple Turnovers
Serving Size: 4
From Taste of Home.com.
Ingredients
1 Cup Flour
1/2 teaspoon Salt
1/2 Cup Cold Butter, Divided
1/4 Cup Ice Water
Filling
1/3 Cup Sugar
2 teaspoons Cornstarch
1/8 teaspoon Cinnamon
2 Medium Tart Apples, Peeled and Thinly Sliced
1 teaspoon Lemon Juice
2 Tablespoons Egg, Beaten
1-1/2 teaspoons Water
GLAZE:
1/4 Cup Powdered Sugar
1 teaspoon Water
Instructions
In a small bowl, combine Flour and Salt. Cut in 1/4 Cup Butter until crumbly.
Gradually add Water until a ball forms.
Roll into 12" x 6" rectangle on a lightly floured surface.
Slice the rest of the butter into thin pieces. At short side of dough, arrange half of the butter slices over 2/3 of the rectangle (within 1/2" of the edges).
Fold the unbuttered 1/3 of dough over the middle third..
Fold remaining third over the middle, creating a 6" x 4" rectangle.
Next, roll dough into a 12" x 6" rectangle.
Repeat steps of butter layering and folding, until you end with a 6" x 4 " rectangle.
Wrap in plastic wrap and chill for 15 minutes.
Roll dough once again into a 12" x 6" rectangle.
Fold in half lengthwise and then width-wise.
Wrap in plastic wrap and this time refrigerate for 1 hour.
In a small saucepan, combine Sugar, Cornstarch and Cinnamon.
Add in the Apples and Lemon Juice and mix to coat.
Bring to a boil over medium heat and stir constantly.
Reduce heat; simmer, uncovered, for 5-10 minutes or until Apples are tender, stirring often. Remove from the heat.
In a small bowl, combine Egg and Water. Roll dough into a 12" square and cut into four squares. Brush with half of the Egg mixture.
Spoon about 1/4 Cup filling on half of each square. DO NOT OVERFILL.
Fold dough over filling. Press edges with a fork to seal. Place on a parchment-lined baking sheet. Brush with remaining egg mixture.
Poke a couple of holes in each Apple Turnover.
Bake at 450° for 17-22 minutes or until golden brown. Remove to a wire rack.
Combine glaze ingredients and drizzle over turnovers.
Serve warm.
Schema/Recipe SEO Data Markup by ZipList Recipe Plugin2.2http://littleindiana.com/2013/10/homemade-apple-turnovers-recipe/Photos are the Property of little Indiana. Do Not Use Without Permission.
Small Towns: Destinations, not Drive-Thrus! I'm Jessica Nunemaker and THIS is little Indiana!
Find pictures in Indiana on my Flickr photostream or on the new little Indiana Tumblr blog.
Just don't forget to tell 'em that  little Indiana sent you!
Don't miss a moment. Subscribe to little Indiana and receive instant updates to stay on top of everything "little."
little Indiana: Where to Stay, Play, and Eat in Small Towns in Indiana. Discovering Indiana's best small towns! Now get little Indiana on your Kindle.
Targeted. Relevant. Affordable! little Indiana advertising.