A homeless dog has more humanity than human beings.
Katherine reports for LifeWithDogs, Nov. 4, 2015, that a stray female dog is being called an "angel sent from the heavens" after the homeless creature saved the life of a newborn baby boy.
While rummaging in a garbage dump in Campinas, Brazil, the hungry dog found the newborn boy with his umbilical cord still attached. As seen in the photo below, the dog gently carried the baby in her mouth to a house near the dump.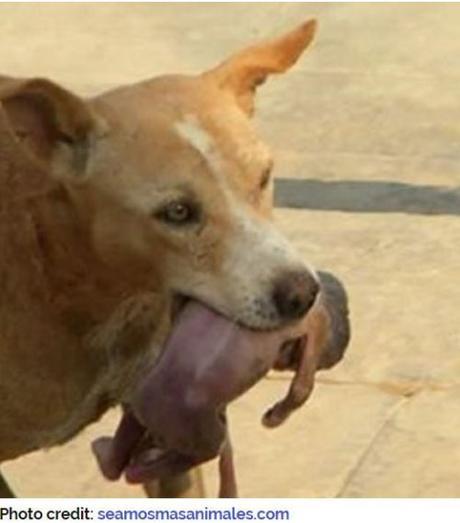 The humans in the house rushed the baby to the nearest hospital. Doctors found the baby unharmed by the canine heroine and in good condition.
Local residents are in disbelief that a mother would throw away her baby to die in a garbage dump. Authorities are now looking for her.
Thanks to this gentle stray dog, the baby boy is alive today.
Although there is an account claiming the incident was in Oman instead of Brazil, LifeNews confirmed the Brazilian locale, citing Univision as a second corroborating source.
LifeNews also reminds us that this is not the first time that a canine angel rescued an abandoned newborn human. A similar incident occurred in 2013 in Thailand when a family dog rescued an abandoned newborn baby girl from a roadside dump.
H/t FOTM's CSM
~Eowyn