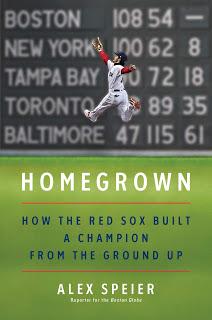 Well, the 2019 Red Sox did not repeat as World Series Champions, and the season overall was one huge dumpster fire. But that takes away nothing from the greatness that was the 2018 championship team, so far the greatest team of the 21st century. And now, Alex Speier, the fine writer from the Boston Globe, has put together the definitive story on how that club was constructed, in a new book called "Homegrown: How the Red Sox Built a Champion From the Ground Up."
Speier is a well-respected writer who brings his insights about the Sox during home games on NESN. He had also followed their farm system closely over the years, so he is well-versed to bring the story of the Sox' young talent to the book. It all begins with the 2011 MLB draft, with the signings of several key players who would be at the heart of the 2018 champions: Mookie Betts, Jackie Bradley Jr, and Matt Barnes.
The Sox were also reaching a crossroads. The 2011 season was a colossal flop (no need to rehash it here), with Terry Francona's "dismissal", and the very forgettable Bobby Valentine Era about to start. 2012 would be a total disaster, and the team needed new blood, and from the ground up. A five-year plan to rebuild was underway, and it would garner not one but two titles.
Speier does a great job putting it together. He goes into some of the conversations he had with scouts, minor league officials and interviews with MLB officials. He gives former GM Ben Cherington and former manager John Farrell their due as well. They were, of course, a huge part of the 2013 championship club, but neither was around for the 2018 one. Speier goes into some interesting detail about Farrell's 2017 dismissal. (That's what I liked most about "Homegrown", lots of inside stuff that the average fan wasn't made aware of.)
I found the section about Mookie Betts' first go-around in Boston in 2014 the most interesting. Seems like he rubbed a few veterans the wrond way with breaking some "unwritten clubhouse rules" as was told in no uncertain terms to cut it out. (Mookie was later relived to be back in AAA when the Sox sent him down after he struggled in July.)
There's plenty to like in "Homegrown". Of course, it ends with the Red Sox winning the 2018 World Series, the "Next Great Red Sox Team" had arrived. But with the great uncertainty facing the club going into this winter, 2018 will almost seem like years ago. But it is certainly worth reading Alex Speier's tome, as it will bring back fond memories of one baseball's all-time great teams, and how they reached the Promised Land.