Each week, we bring you a quick run-down of what's out on DVD so you don't miss the hits and you can skip the misses.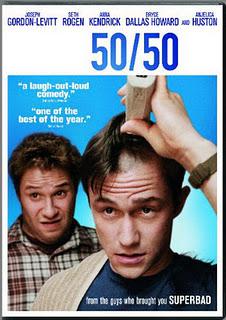 Photo: amazon.ca

Buy it now
:
50/50
Joseph Gordon Levitt and Seth Rogen star in this truly touching, based-on-true-events tale of a young man diagnosed with terminal cancer. The script, written by cancer survivor and Rogen BFF Will Reiser, is not the usual melodramatic (and thus, wholly insincere) drivel that one might easily associate such a story. It's refreshingly raw, making you cry with laughter just as much as it does with sadness.  No wonder it made Emily's Top 10 of 2011.
Rent it
:
Restless
Restless is the super sappy love story attempt by director Gus Van Sant and starring Henry Hopper (Dennis Hopper's son) and Mia Wasikowska (Alice in Wonderland and Jane Eyre). Though there is the ever-constant teenage "the world is ending" attitude to the film, I didn't feel it overpowered the undercurrent of new love and fun hats. He really let the two youngens try and work out their weird story on their own, similar to his style in Elephant.
Read the rest of Isa Montagnese's review.
Also out
:
Real Steel
A down-and-out boxer (played by Wolverine) coaches a misfit robot in combat. As he helps the robot KO his competitors in an underground, machine-based fight club, the dude also works to rebuild his relationship with his estranged son. Sounds like Rock 'Em Sock 'Em Robots the Movie. But with more crying.