Each week, we bring you a quick run-down of what's out on DVD so you don't miss the hits and you can skip the misses.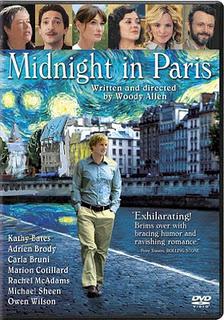 Buy it now:
Midnight in Paris

I can't express how often I wish I was born in another era. For me, it's the sixties in the U.S., with the dreamy allure of Bob Dylan, the Civil Rights movement and the Merry Pranksters. In Woody Allen's Midnight in Paris, struggling novelist Gil similarly yearns for another time: in his case, Paris in the 1920s. In this sweet and astute film about the trouble of wanting to be somewhere you're not, Allen channels observations about a restless society into one of his best films to date.
Read the rest of Manori's review.
Also out:
Straw Dogs
We didn't get a chance to catch this apparently brutal remake of the 1971 Sam Peckinpah -directed Dustin Hoffman starrer, but we hear it's definitely not for everyone. Following a couple (Kate Bosworth and James Marsden) who are terrorized by a group of local thugs (led by True Blood's Eric Northman - sorry, Alexander Skaarsguard) before taking their own terrifying revenge, it sounds like The Strangers meets Funny Games. Read into that what you will.  Ebert said he liked it better than the original.