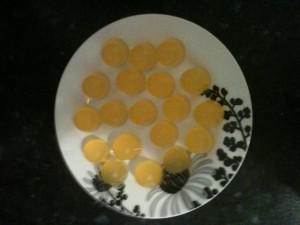 Ingredients:
3 sachets Dr Oetke Gelatine
Tesco Strawberry & Apple Sugar Free Squash
Rose Water
2/3 pkt Cadbury's chocolate buttons
Add the gelatine to 1/4 pint boiling water, and stir well until thoroughly dissolved. If struggling to dissolve the gelatine stand the jug in a pan of boiling water and stir well until it does dissolve.
Add a good 'slurp' of rosewater.
Top up to 1/2 pt using the undiluted squash.
Pour into ice cube trays to set. For me it made 24.
When partially set add a chocolate button to each 'cube'
Leave until set and enjoy!
Kindly given to the blog by one of my mums.