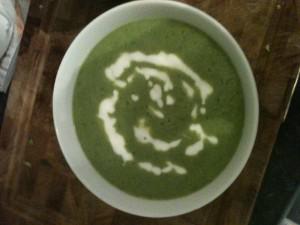 You need:
1 onion
2 celery sticks
2 garlic cloves
600g frozen peas
6 teaspoons of fresh mint
Vegetable stock 1 litre
Fat free natural yogurt
Finely cut the onion, celery sticks and garlic cloves and put in the saucepan along with the frozen peas. Add 1 Litre of veg stock put over medium heat and bring to boil. Reduce the heat and cook for 20 mins.
Use a hand held blender or food processor blend the soup and then add mint to processor or hand blender. Blend until smooth and serve. Drizzle with the yogurt and sprinkle with black pepper if you like.

Kindly given to me by one of my mums.